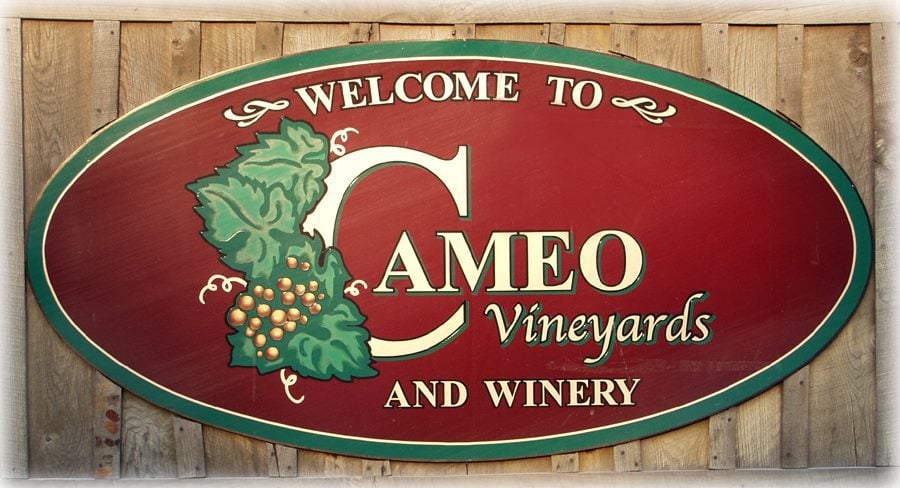 Cameo Vineyards – Greenup, IL
Cameo Vineyards started as a dream in 1991 when we first planted 70 grapevines.  For nearly 11 years we grew grapes and honed our wine making skills.  Then, in 2002, Cameo Vineyards opened its doors.  Today, we have nearly 4,000 French-American hybrid grapevines, covering close to seven acres.  We crush approximately 35 tons of Illinois grapes each year and produce 14 varieties of wine, from dry to sweet, in reds, whites and blushes.  Our wines have won numerous regional and international awards, but it is more important to us that you, the customer, will find enjoyment from the fruits of our labor.
It is our pleasure to invite you and your family to visit us.  We have made every effort to create a warm, family-friendly atmosphere that will beckon you to sit, relax, and enjoy yourself, no matter the season or occasion.  We are committed to producing fine regional wines and providing our customers with warm, personal service.
We want your visit to be a wonderful experience.  Enjoy complimentary tastings, purchase wine by the glass, and browse leisurely through our gift shop.  We will gladly provide a tour of our cellar whenever possible.
As the perfect compliment to your glass of wine, be sure to try our delicious variety of crackers, cheeses and summer sausage.  We have chosen only the best to include in our gift shop.  (Information from Cameo Vineyards)
We look forward to meeting you soon!
Cameo Vineyards
400 Mill Road
Greenup, IL 62428
217-923-9963
http://www.cameowine.com/
For weekly and upcoming events see the events calendar:  https://localinfonow.com