2023 Spooktacular STEAM @ Lake Land College Kluthe Center – Effingham, IL
October 14 @ 8:30 am - 11:30 am CDT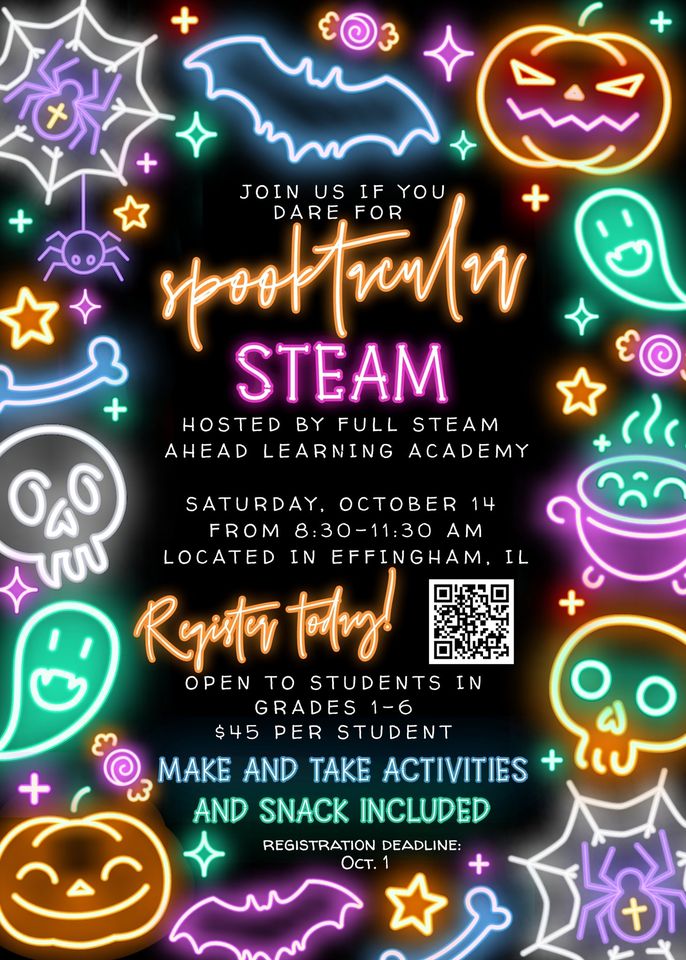 2023 Spooktacular STEAM @ Lake Land College Kluthe Center – Effingham, IL
Saturday, October 14th, 2023
8:30 am – 11:30 am –
Full STEAM Ahead Learning Academy presents "2023 Spooktacular STEAM". This is a 3-hour program incorporating STEAM principles (Science, Technology, Engineering, Art, Mathematics) and will involve Halloween-themed activities/lessons. Each lesson is aligned to a STEAM learning standard and will include a "make and take" activity.
The curriculum is designed and taught by Full STEAM Ahead Learning Academy educators, including 2 certified teachers, one licensed paraprofessional, and one administrator. Details are listed below:
Saturday, October 14th
8:30 a.m.-11:30 a.m.
Lake Land College Kluthe Center, Effingham
Open to 1st-6th grade students
Cost: $45/student
Registration deadline: October 1st
The number of participants is limited and will be on a "first come, first served" basis. To register your child, please complete and submit the form below. Upon submission, you will receive an email with additional details, including payment information (Please note….the registration fee is nonrefundable.) Deadline to register is October 1st.
Registration form: https://forms.gle/1RrxBVxQGK4Q9VHP8
If you have any questions, please email [email protected].
Related Events