2nd Annual Women in Business Workshop @ XCHNG – The Exchange – Effingham, IL
March 10 @ 1:30 pm - 4:00 pm CST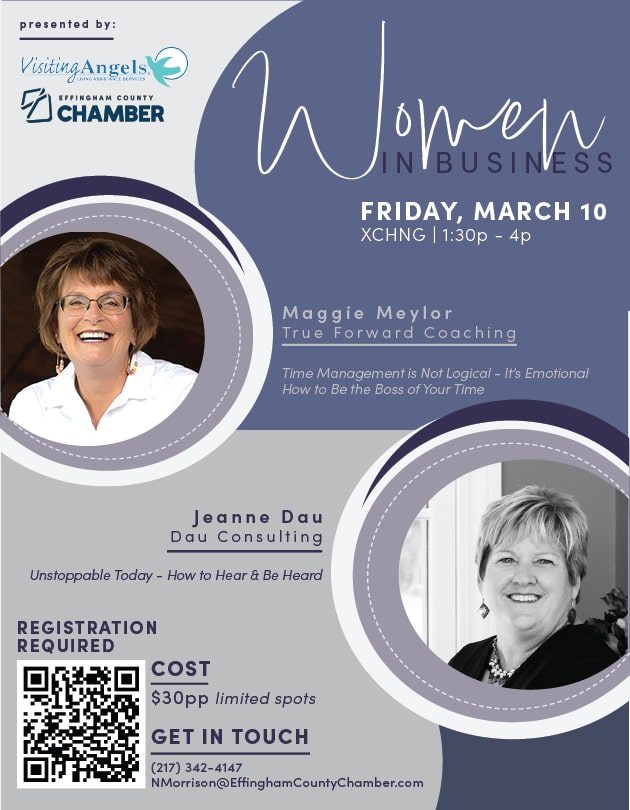 2nd Annual Women in Business Workshop @ XCHNG – The Exchange – Effingham, IL
Friday, March 10, 2023 at 1:30 PM – 4 PM –
The 2nd Annual Chamber Women in Business Workshop, presented by Visiting Angels & Whitney Roofing, is designed to educate, encourage & inspire women. We will focus on helping women gain confidence, strengthen communication skills, cultivate relationships, practice self-care, and support each other's personal & professional success.
Featured Presenters:
Maggie Meylor, Certified Professional Life & Business Coach, Strengths Champion, Certified e2grow Facilitator – True Forward Coaching
Time Management is Not Logical – It's Emotional. How to Be the Boss of Your Time
Do you wish you could live in a place of calm rather than hurry? Imagine how it would feel to wake up each day with zero resentments for your upcoming to-dos. Here is a fact: we cannot create more time, but we can use our existing time to empower who and what is most important. And, ultimately, choose empowered calm in a world of hurry. This collaborative session will:
Examine the underlying emotional drivers of time management
Present a formula for determining what to say yes to (and what to say no to)
Explore how we can use our time to empower who and what is most important
Dismantle the beliefs and barriers that hold us in a place of hurry rather than calm
Jeanne Dau, Strategic Planning, Business Development, Coaching, Marketing, Training – Dau Consulting
Unstoppable Today – How to Hear and Be Heard 
Do you ever feel like you are talking to the wall? That people aren't listening or are too distracted to connect? You are not alone.  Learn to speak in a language that they will understand.  This interactive and highly conversational session will:
Explore why there is diversity of thought among us
Identify your thinking preference
Understand the superpowers as well as the challenges of your personality preference
Identify other's communication preferences based on clues in their communication and nonverbals
Practice more effective communication using shared tips and tricks
1:30p | networking
2p | welcome
2:05p | Time Management is Not Logical – It's Emotional. How to Be the Boss of Your Time.
2:50p | break
3p | Unstoppable Today – How to Hear & Be Heard.
4p | closing/networking
Cost:
$30pp – limited spots!
Registration required – payment due at time of registration.
Cancellations accepted until noon CST on Friday, March 3*
Sponsorships:
We need your help ensuring our guests receive the best experience possible. Consider partnering with the Chamber to bring us closer to having the perfect event.
Presenting (2) | $500
Gold | $250
Friend | $100
Swag | provide a branded item for our welcome bags
Questions:
Contact Nicole at the Effingham County Chamber by calling (217) 342-4147 or emailing [email protected].
*Due to this workshop offering limited seating, cancellations and refunds will be issued in full if received on or before noon CST Friday, March 3. After noon CST on March 3, no refunds will be issued. If the event is rescheduled, all registrations will be honored for the rescheduled date or may be refunded in full with a refund request**. If the event is canceled, all registration will be refunded in full. **Refund requests must be submitted in writing by email to [email protected]. Please allow up to five (5) business days to process your refund request.
Related Events