A Storybook Christmas 2022 @ Downtown Hillsboro, IL
December 3 @ 11:00 am - 8:00 pm CST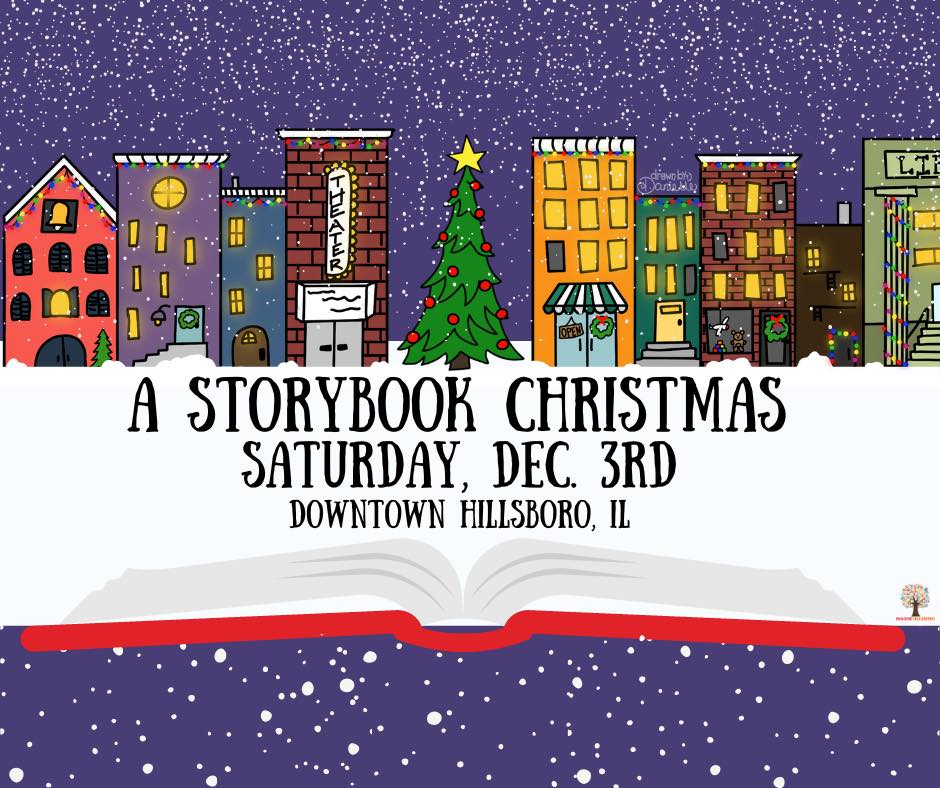 A Storybook Christmas 2022 @ Downtown Hillsboro, IL
Saturday, December 3, 2022 at 11 AM – 8 PM –
Once upon a time, in Hillsboro Illinois….
Write yourself into your favorite Christmas story at our one-of-a-kind celebration. A Storybook Christmas combines timeless traditions with new ideas, to create a unique experience that is fun for the whole family!
This year Imagine Hillsboro is taking the reins and hosting their own Breakfast with Santa! Believers, young and old, will dine on donuts while visiting with Santa. After breakfast take advantage of a photo op with a live reindeer!
At 11 a.m. the streets will come alive as carolers stroll the streets, and interactive characters are at home in scenes straight from a book. The Orpheum Theatre will have two free movie showings at 11 a.m. & 1 p.m. Family activities can be found on the street and inside many downtown businesses. Horse drawn carriage rides will run from 11 a.m. to 3 p.m. Various performers will showcase their talents on the Lincoln Plaza Stage throughout the day.
A Storybook Christmas offers exclusive shopping opportunities, with local merchants peddling their handmade holiday wares. St Paul's Lutheran Church basement will host the annual Hillsboro Christmas Market and there will be many specialty items for sale on the street. Additional vendors will be set up shop at the Hillsboro Moose Lodge. Punch your SHOP HILLSBORO punch cards at any of Hillsboro's many businesses, which are sure to have the perfect gift for everyone on your list.
Enjoy traditional Holiday foods, like bratwurst, Christmas cookies, and Gluhwein (mulled wine), as well as modern favorites, all served up by local businesses and clubs. There are lots of warm (and cold) drinks being served up too!
As the sun sets gather Downtown with neighbors and friends to countdown the lighting of the town Christmas Tree for the first time of the Holiday season.The lighting ceremony will kick off when The Polar Express Conductor aka Sheriff Robbins plugs in the town tree for the first time of the season. With the tree shimmering as the centerpiece of Historic Downtown, festival-goers can wrap up the evening with a stroll around Courthouse Square to enjoy and interact with the participants of our re-imagined Reverse Lighted Parade.
Come be a part of the story!
Event by Imagine Hillsboro
Related Events