Annual Chili – Soup Supper @ Carlinville Moose Lodge – Carlinville, IL
October 29 @ 5:00 pm - 7:00 pm CDT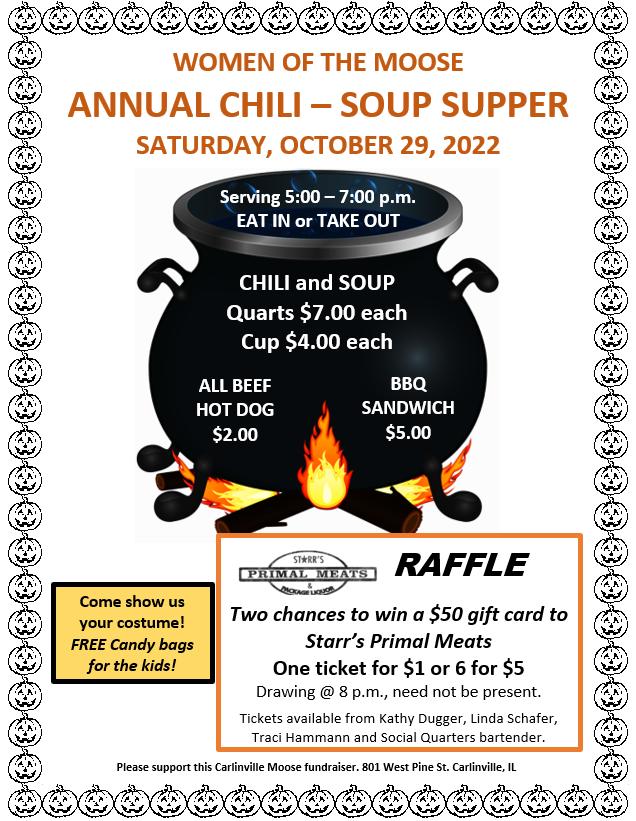 Annual Chili – Soup Supper @ Carlinville Moose Lodge – Carlinville, IL
Saturday, October 29, 2022 at 5 PM – 7 PM –
Women Of The Moose Annual Chili – Soup Supper
Serving 5 PM – 7 PM ~ Eat In or Take Out
Chili and Soup
Quarts ~ $7.00 each
Cup ~ $4.00 each
All Beef Hot Dog  ~ $2.00
BBQ Sandwich ~ $5.00
Two chances to win a $50 gift card to Starr's Primal Meats
One ticket fot $1 or 6 for $5
Drawing @ 8 PM, need not be present.
Tickets available from Kathy Dugger, Linda Schafer, Traci Hammann and Social Quarters bartender.
Come show us your costume!
Free Candy bags for the kids!
Related Events