Balloon Fest @ Centralia Foundation Park – Centralia, IL
August 19 @ 3:00 pm - 9:00 pm CDT
|
Recurring Event
(See all)
One event on August 20, 2022 at 10:00 am
One event on August 21, 2022 at 10:00 am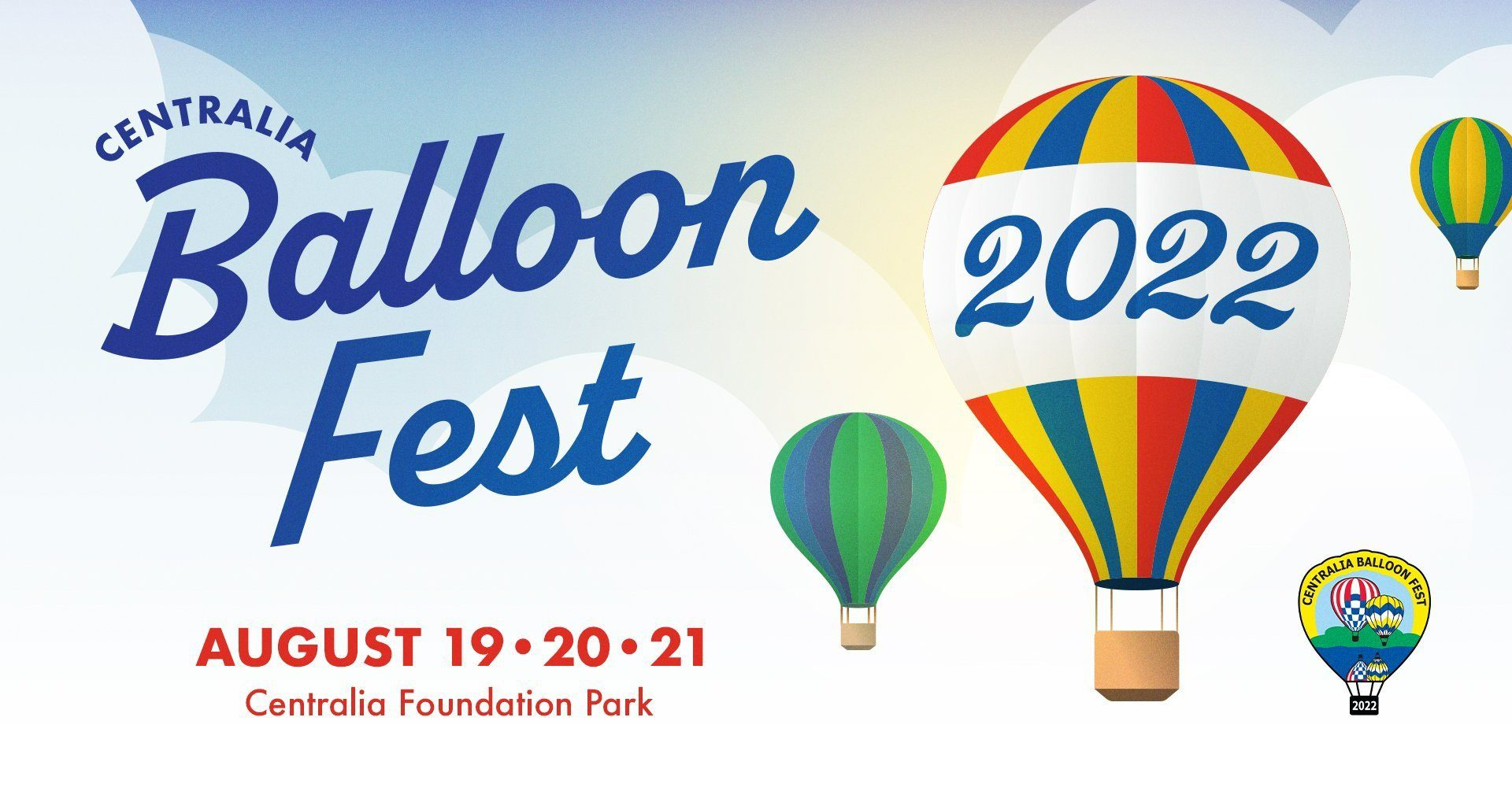 Balloon Fest @ Centralia Foundation Park – Centralia, IL
Friday, August 19, 2022 at 3 PM – 9 PM
Saturday, August 20, 2022 at 10 AM – 9 PM
Sunday, August 21, 2022 at 10 AM – 4 PM –
39 Hot Air Balloons
Live Entertainment
Food and Craft Fair
Over 100 Vendors
$5 FESTIVAL WRISTBAND
Wristband gives Admission – good for all weekend!
Wristbands available at event gates (Cash Only)
or skip the line and purchase in advance at various locations.
Kids Under 6 – Free Admission
No pets. No alcohol. No coolers. No unauthorized vehicles.
Bring your lawn chairs, blankets, and sunscreen!
$5 Parking at North Entrance
1490 Gragg St, Centralia, IL 62801
Free in-park golf cart shuttle service during park hours and
SCT Shuttle service on Friday and Saturday from 4:00pm-6:00pm and 8:00pm-9:00pm.
Additional parking and SCT shuttle to Foundation Park from City Hope Church (1000 E. Second St.)
$1 per person on Friday and Saturday from 4:00pm-9:00pm.
"SCT Shuttle is equipped with lifts, ramps, and securement systems for persons with mobility impairments."
Other parking may be available from surrounding neighborhoods and businesses.
Please pay attention to posted "no parking" signs.
Friday, August 19
Main Event 4:30 PM – 8:30 PM
Park Hours 3:00pm – 9:00pm
Food & Craft Fair: Over 100 Vendors
Balloon Events: Evening Hot Air Balloon Flight, Tethered Balloon Rides, Balloon Glow Finale
Two Stages of Entertainment: Snowbird Street Band (Folk), The Presswoods (Pop Hits), Paul Bonn Blues Band
Saturday, August 20
Main Event 4:30 PM – 8:30 PM
Park Hours 10:00am – 9:00pm
Food & Craft Fair: Over 100 Vendors
Balloon Events: Evening Hot Air Balloon Flight, Tethered Balloon Rides, Balloon Glow Finale
Two Stages of Entertainment: Roaming Home (Rock), Tim Loss Comedy, Pardon My French (Folk), Magic Robbie (Magician), Cody Phillips Band (Country), Kev O's Karaoke, Cat Daddy 'O (Rock), Jamie Nattier (Country)
Sunday, August 21
Free Family Fun Day 10 AM – 4 PM
Food and Craft Fair: Over 100 Vendors
Family Activities: Kids Arts and Crafts, Sports and Games, Puzzles, Selfie Scavenger Hunt, Inflatable Jumps, Costumed Characters, Little Toot Train Rides, Da Bubbler of Southern Illinois (Bubbles)
Park Events: Church Service, Car and Motorcycle Show (Cruise-In From CHS), Cardboard Boat Races, Photo Opportunities
Entertainment: USAF Starlifter Rock Band
Two Stages of Live Entertainment
Friday, August 19, 2022 | Picnic Stage (East)
4:00pm | Snowbird Street Band
6:00pm | Paul Bonn Blues Band
Friday, August 19, 2022 | Craft Stage (West)
5:00pm | The Presswoods
Saturday, August 20, 2022 | Picnic Stage (East)
11:00am | Roaming Home
1:00pm | Pardon My French Angela French
3:00pm | Cody Phillips Band
5:30pm | Cat Daddy'O
Saturday, August 20, 2022 | Craft Stage (West)
12:00pm | Tim Loss Comedy
6:00pm | Jamie Nattier
1:00pm | Magic Robbie
4:00pm | Kev O's Karaoke
Sunday, August 21, 2022 | Picnic State (East)
2:00pm | USAF Starlifter Rock Band
Sunday, August 21, 2022 | Craft Stage (West)
10:00am | Foundation Church Service
Additional information: Centralia Balloon Fest ® – Centralia, Illinois (centraliachamber.com)
Event by Centralia Balloon Fest and The Greater Centralia Chamber of Commerce
Related Events