BJ's Jeeps-Giving @ BJ's Saloon – Newton, IL
November 5 @ 11:00 am - 5:00 pm CDT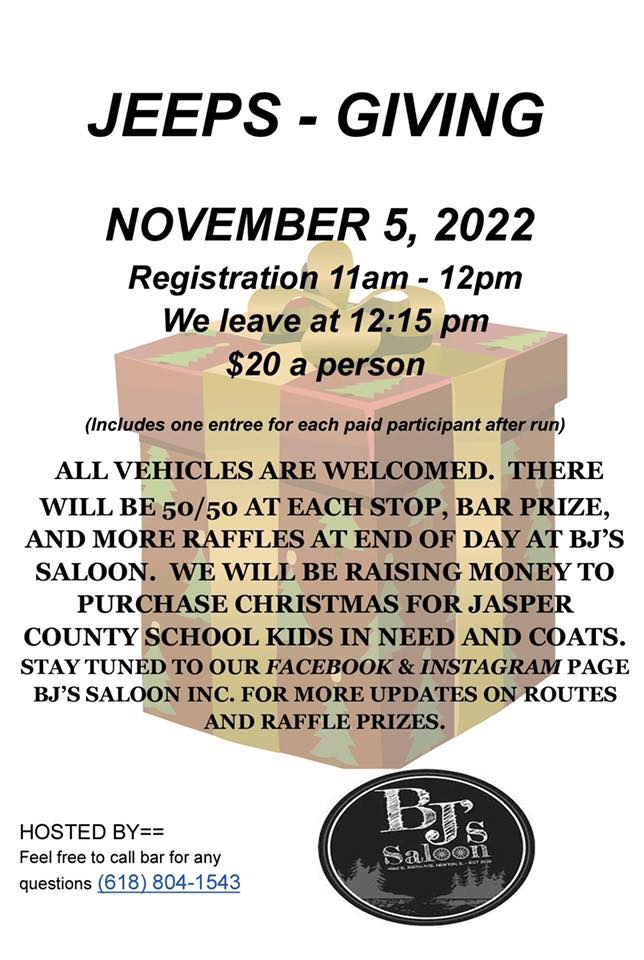 BJ's Jeeps-Giving @ BJ's Saloon – Newton, IL
Saturday, November 5, 2022 at 11 AM – 5 PM –
Jeeps-giving is our last Jeep run of 2022. Saturday November 5th We are doing this run to raise money to help provide Christmas and coats for Children in need in our community. $20 a person gets you a stamp and that gets you a free sandwich & tots or fries the day of the event when we get back to BJ's, drinks and appetizers are not included). Sign-up at BJ's 11-12pm. We leave for our first stop by 12:15pm
Stops will be announced at a later date.
There will be 50/50's & bar prize drawings at each stop. More details to come! Save the date and help make Christmas a little more merry.
Related Events