Celebration of Life Butterfly Release @ HSHS St. Anthony's Memorial Hospital – Effingham, IL
May 18 @ 5:30 pm - 6:30 pm CDT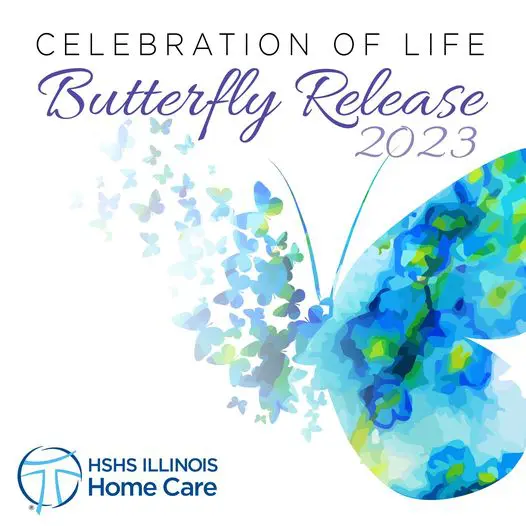 Celebration of Life Butterfly Release @ HSHS St. Anthony's Memorial Hospital – Effingham, IL
Thursday, May 18th, 2023
5:30 pm – 6:30 pm –
EFFINGHAM— HSHS Hospice Illinois invites community members to join them for a butterfly release ceremony at HSHS St. Anthony's Memorial Hospital on Thursday, May 18 at 5:30 p.m. in the Healing Garden of the hospital.
Valerie Engelbart, bereavement services supervisor for HSHS Hospice Illinois, shared, "The butterfly represents the transformation of the spirit as our loved ones transition from this life. We look forward to sharing in this special time with the families in our communities."
Family and friends are invited to celebrate and remember the life of a loved one who has passed.  The ceremony will include a butterfly release and the reading of the names of those being honored.
If you would like to participate in the ceremony, please RSVP to Valerie Engelbart, volunteer/bereavement coordinator, at 217-685-0702 or email [email protected].  Butterflies will be released for all of those honored, but you are invited to personally release a butterfly for your loved one by reserving a butterfly for $15 to be paid prior to the ceremony.
You may also reserve a butterfly online by visiting giving.hshs.org/sae/donate and paying by credit or debit card. In the online form, select "Butterfly Release/Hospice Program" under the Designation section and select "This gift is in honor, memory, or support of someone" under the Tribute Gift section and fill in the name of your loved one.
For more information about HSHS St. Anthony's Memorial Hospital, visit St. Anthony's website at stanthonyshospital.org.
Related Events