Chamber Energy Program Office Hours @ Effingham County Chamber – Effingham, IL
April 4 @ 9:00 am - 4:00 pm CDT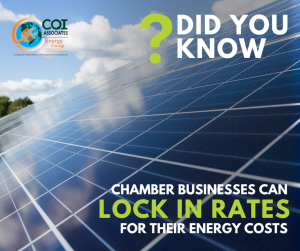 Chamber Energy Program Office Hours @ Effingham County Chamber – Effingham, IL
Tuesday, April 4th, 2023
9 am – 4 pm –
The Effingham County Chamber has partnered with nationally recognized energy management experts and consultants, CQI Associates, to run the energy cooperative. The Chamber Energy Co-Op program provides competitive electric and natural gas rates for your business.
CQI's 25-plus years of experience provides the best option for stabilizing your utility expenses. There is no better time for members to enroll in the Chamber Energy Purchasing Cooperative Program and gain price stability, budget control and peace-of-mind.
Since 2004 cooperative participants have consistently realized electricity and natural gas rates below both market rates and the weighted annual utility standard offer service rates.
Have been wondering how the Chamber Energy Program works and how it can benefit  your business? Do you have a ton of questions that you prefer to ask in person versus through email or over the phone?
If so, CQI Associates, LLC Associate, Shelby Dupont, will be hosting Energy Program Office Hours at the Chamber for those exact reasons. Stop by on Tuesday, April 4 between 9a – 4p and chat with Shelby on the many benefits of joining the Energy Co-Op.
Questions about the Energy Co-Op can be directed to:
Shelby Dupont at [email protected] or (217) 521-9400.
Questions about office hours can be directed to:
Chamber Membership Director Becky Brown at (217) 342-4147
Related Events