Christmas Bingo & Movie Night @ Bethany Depot – Bethany, IL
December 10 @ 4:00 pm - 8:30 pm CST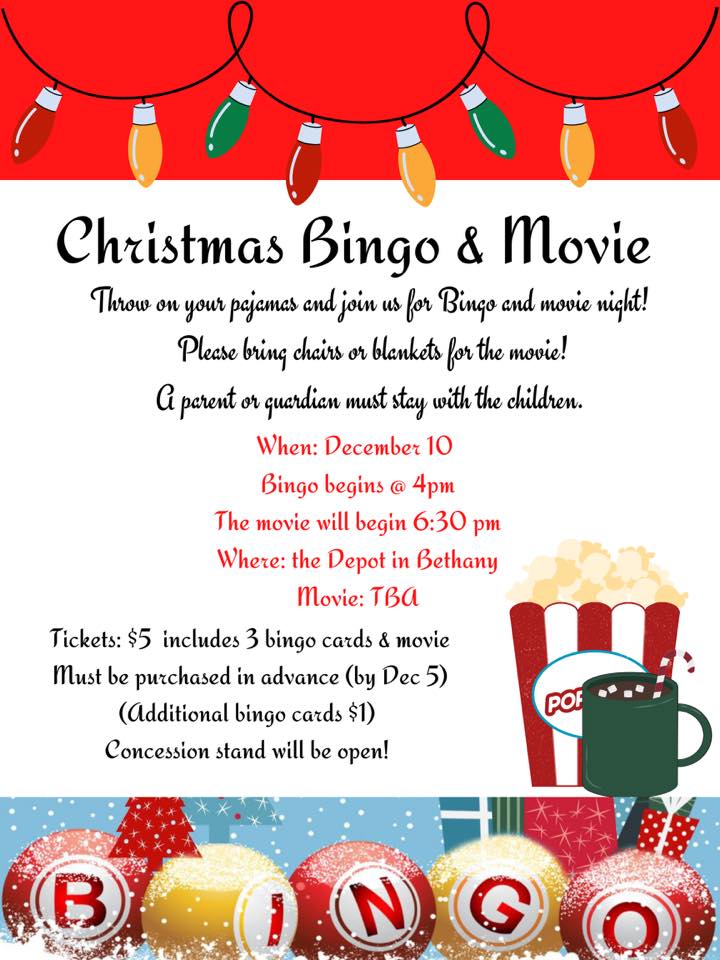 Christmas Bingo & Movie Night @ Bethany Depot – Bethany, IL
Saturday, December 10, 2022 at 4 PM – 8:30 PM –
Bingo games begin at 4pm
Movie begins at 6:30!
Tickets are $5, must purchase in advance!
This includes 3 bingo cards and the movie.
Additional bingo cards will be sold for $1/each.
There will be concessions for food and drink!
*Bingo will mostly be for adults as some of the prices are for 21 and older.
*We will have a show/mini movies playing while bingo is going on for the kids.
*we will be having a 50/50 drawing
*We will have concessions, Hotdogs, Chips, Popcorn, Candy and drinks.
*LIMITED TICKETS AVAILABLE. We are not holding tickets, must be paid for and picked up by Dec 5th.
*We are going to hold a contest for Ugliest Sweater, Most Festive, and best Pjs.
*If you bring in a pair of gloves or a canned food item you will get a free Popcorn from the Concessions.
Event by Bethany Celebration
Related Events