Classic Car Show @ Litchfield Skyview Drive In – LIitchfield, IL
September 14 @ 3:00 pm - 10:30 pm CDT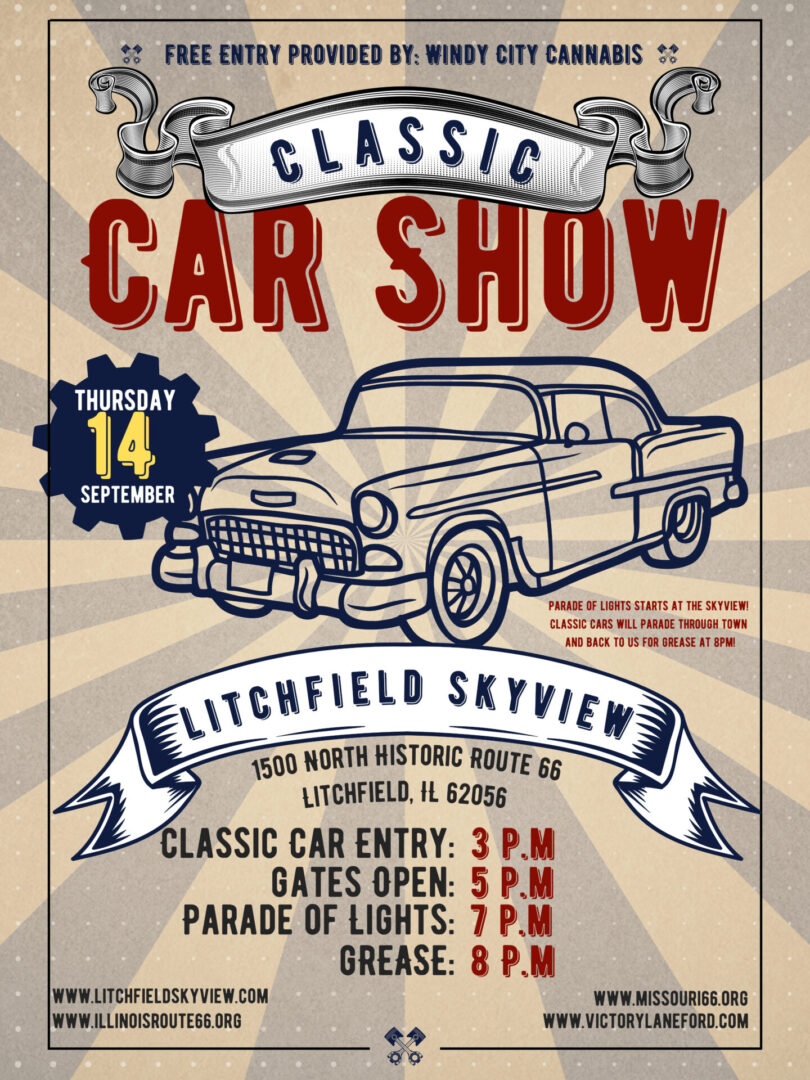 Classic Car Show @ Litchfield Skyview Drive In – LIitchfield, IL
Thursday, September 14th, 2023
3 pm – 10:30 pm –
Litchfield Skyview is hosting a Classic Car Show on Thursday, September 14th at the famous drive-in movie theater in Litchfield. The event also includes a Parade of Lights, with classic cars starting at the Skyview, driving through downtown Litchfield, and returning for the movie showing of "Grease".
Free entry to the event is provided by Windy City Cannabis of Litchfield. Route 66 Association of Missouri 2023 Motor Tour attendees who arrive early in Litchfield for the 9/15-9/17 Motor Tour, will also receive free entry in the Classic Car Show and complimentary movie tickets for "Grease" at 8pm.
Schedule:
Classic Car Entry – 3pm
Gates Open – 5pm
Parade of Lights – 7pm
Grease Movie – 8pm
The Route 66 Association of Missouri 2023 Motor Tour officially kicks off the next day, Friday September 15th, at Litchfield Museum & Visitor's Center, followed by stops at Henry's Ra66it Ranch and Chain of Rocks Bridge (IL approach). The Motor Tour continues along Missouri Route 66 through September 17th. Click here for more Motor Tour info.
Related Events