Dan Hecht Chevrolet-Toyota 65th Anniversary @ Dan Hecht Chevrolet-Toyota – Effingham, IL
September 15 @ 11:00 am - 1:00 pm CDT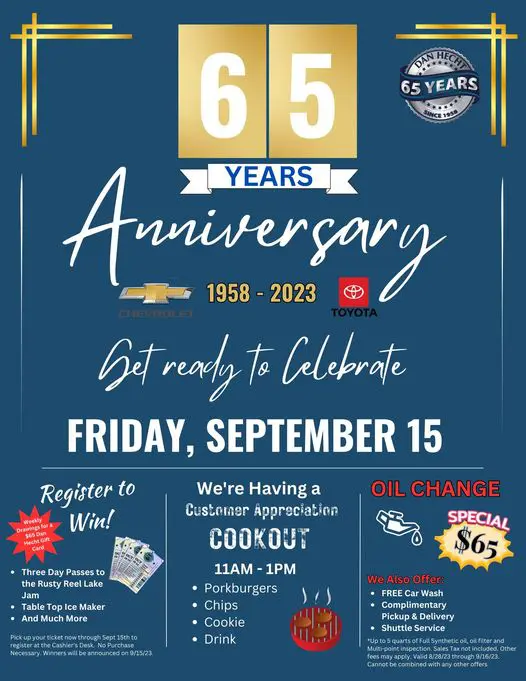 Dan Hecht Chevrolet-Toyota 65th Anniversary @ Dan Hecht Chevrolet-Toyota – Effingham, IL
Friday, September 15th, 2023
11 am – 1 pm –
Dan Hecht Chevrolet Toyota is marking its 65th anniversary, and they extend a warm invitation to everyone to be a part of this Anniversary Celebration!
From now until the following Friday, individuals can head over to the dealership and register for a chance to win some amazing prizes, including TWO sets of three-day passes to the Rusty Reel Lake Jam in October!
Is your vehicle in need of an oil change? Don't miss the special $65 oil change offer, available until Saturday, September 16th. It's an excellent opportunity to keep your ride running smoothly while taking advantage of this fantastic deal!
And that's not all! On Friday, September 15th, from 11 AM to 1 PM, there will be a parking lot cookout event. Attendees can savor complimentary Porkburgers, chips, a refreshing beverage, and a delicious cookie. It's a chance to come together and express gratitude to the community for 65 years of unwavering support.
Let's commemorate this remarkable milestone together! Dan Hecht Chevrolet Toyota extends its heartfelt thanks for being a part of their journey and eagerly anticipates creating even more cherished memories with the community in the years ahead.
Follow us on Facebook!
Related Events