Downtown Effingham Hometown Christmas 2023 @ Downtown Effingham, IL
December 2 @ 3:00 pm - 6:00 pm CST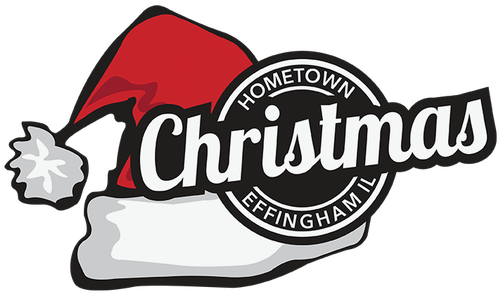 Downtown Effingham Hometown Christmas 2023 @ Downtown Effingham, IL
Saturday, December 2nd, 2023
3 pm – 6 pm –
Join us in celebrating cherished Christmas traditions and creating unforgettable family memories at the Downtown Effingham Hometown Christmas, presented by McHugh Hospitality Group!
Enjoy enchanting horse-drawn carriage rides, whimsical tractor train rides, meet adorable live reindeer, and be entertained by beloved Christmas and Disney characters.
Sip on warm and delightful hot drinks, savor kettle corn, and have a blast at Santa's workshop filled with festive fun!
Event Times:
10a-3p | Downtown Effingham Hometown Christmas Shopping*
11:30a-1:30p | Lunch with Santa @ Joe's Pizza*
12p-3p | Hair Tinsel Bar @ Humbled Soul Boutique*
3p-5p | Santa's Workshop (heated tent in the City parking lot)
3p-5p | Christmas & Disney Characters by Effingham Performance Center Theatre Camp and EHS Drama Club
3p-5p | Horse Drawn Carriage Rides
3p-5p | LIVE Reindeer by Dahkne Family Farms
3p-5p | Tractor Train Rides by Bahrns Equipment, Inc., Roepke Overhead Door & Y-Yard
3p-6p | Macklin Kettle Corn* & Joe Sippers Cafe* Beverage Cart
4p-4:30p | Dancelife Studio LIVE Performance
5p | Lighted Christmas Parade (starting at Beanstalk Boutique, heading down Jefferson Ave & ending at Santa's House)
5:45p-8p | Santa Arrives! Santa House hours with cookies provided by Layna Bond & Associates, LLC – American Family Insurance
6:15p | FACE Orchestra & Christmas Choir @ Old Courthouse Museum
Lighted Parade:
Get ready to be dazzled! Join us for the spectacular Lighted Christmas Parade, a magical evening of holiday cheer and twinkling lights. Watch as beautifully decorated floats, festive vehicles, and singing elves illuminate the streets, spreading warmth and joy to all. Bring your friends and family to experience the enchantment of this delightful holiday tradition.
If you wish to participate, please click here to fill out the online form.
Limited space! Deadline to sign up is Nov 27!
Current Parade Participants include:
City of Effingham
City of Effingham Streets Division
Dan Hecht Chevrolet-Toyota
Dancelife Studio
Effingham County Fair Queen & Junior Miss
Effingham FAST STOP
First National Bank of Waterloo
Gabby Goat
Keith Bradle
Layna Bond & Associates – American Family Insurance
Millroad Thresherman Association
Murfee & Weishaar Insurance
Pepsi Mid-America
St. Anthony Grade School Intermediate Choir
Firetruck with Santa
Santa Letters:
Request your Santa Letter here.
Deadline is Dec 4!
Sponsored by Tracy Willenborg, Taylor Law
Become a Volunteer:
Hometown Christmas is a celebration for all during this beautiful holiday season and we are on the search for incredible volunteers to assist with activities throughout the day. Your support is critical to the success of the event. Sign up sheet will be available through LoveTheHam.org at a later date.
Volunteer needs will be for:
Santa's House
Santa's Workshop
Horse Drawn Carriage
Tractor Train Rides
Become a Sponsor:
Help brighten this holiday season by supporting this years event! Hometown Christmas offers a gift to all as we gather together to celebrate this FREE community event.
Click here to fill out the online form. Deadline to be on print materials is Nov 27!
Current Sponsors include:
McHugh Hospitality Group/Hampton Inn & Suites/& Home2 Suites (coming soon!)
City of Effingham
Visit Effingham
Cromwell Media Group – Effingham
Premier Broadcasting/97.9 XFM/KJ Country 102.3
Tracy Willenborg – Santa Letters
Agracel, Inc.
Effingham Asphalt
Prudential Financial – Matt Roedl
SC3F Wealth Management
Contact Information:
Nicole Morrison
[email protected]
(217) 347-6282
Follow @EffCoChamber on Facebook to stay updated on Hometown Christmas details!
Related Events