Dress for Success @ Enduring Freedom Ministries – Shumway, IL
July 29 @ 10:00 am - 2:00 pm CDT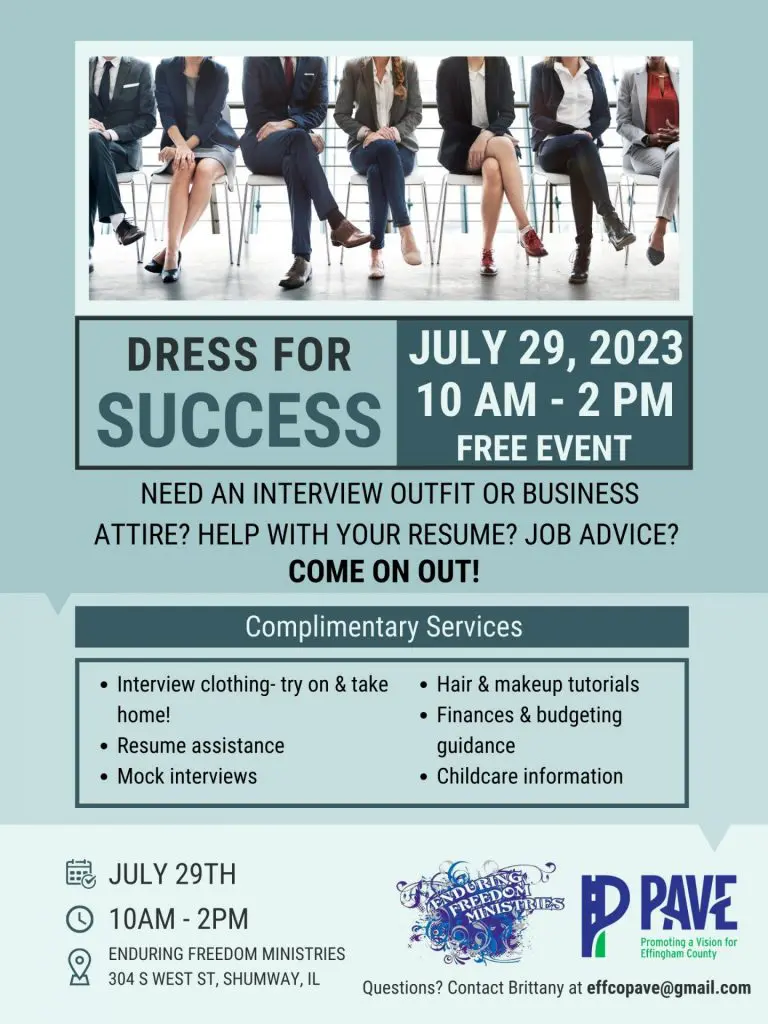 Dress for Success @ Enduring Freedom Ministries – Shumway, IL
Saturday, July 29th, 2023
10 am – 2 pm –
Dress for Success will take place at Enduring Freedom Ministries located at 304 S West St in Shumway, and aims to provide individuals with the tools and support they need to enhance their professional image and succeed on their life journey.
Dress for Success is an event geared toward job seekers and those getting ready for interviews. It's also open to anyone who wants to improve their professional appearance or needs a professional outfit for an upcoming wedding or special event. At the event, there will be a wide variety of interview outfits and business attire available for you to try on and take home—all for free!
To help you find the perfect outfit, we will have stylists who can assist you in choosing the right clothes and ensuring they fit well. They will guide you in selecting attire that matches your personal style and career goals.
Besides clothes, Dress for Success will offer helpful services to support your professional journey. There will be people available to help you create a great resume that matches your career goals. You can also practice mock interviews to get better at them and feel more confident. And if you need advice on managing your money and budgeting, we've got you covered! Dieterich Bank and Land of Lincoln Credit Union will be there with all the information you need.
During this event there will be volunteers helping with hair and makeup tutorials, professional life coaching, etiquette, and more! Lake Land College, Crisis Nursery, and ROSC (Recovery-Oriented System of Care) will be there with information about their organizations as well as a few others.
To make it easier for you to attend, childcare services will be provided on-site. Your kids will be safe and well taken care of while you enjoy the event. Christ's Church and the University of Illinois Extension Office will keep them busy with all sorts of fun activities.
While registration is not required to attend, we'd love to get an idea of how many to expect. Please contact Vickie at (217) 240-0059 to put your name on the list.
Follow our Facebook Page!
Related Events