Dueling Pianos @ Willow Ridge Winery – Shelbyville, IL
February 11 @ 7:00 pm - 10:00 pm CST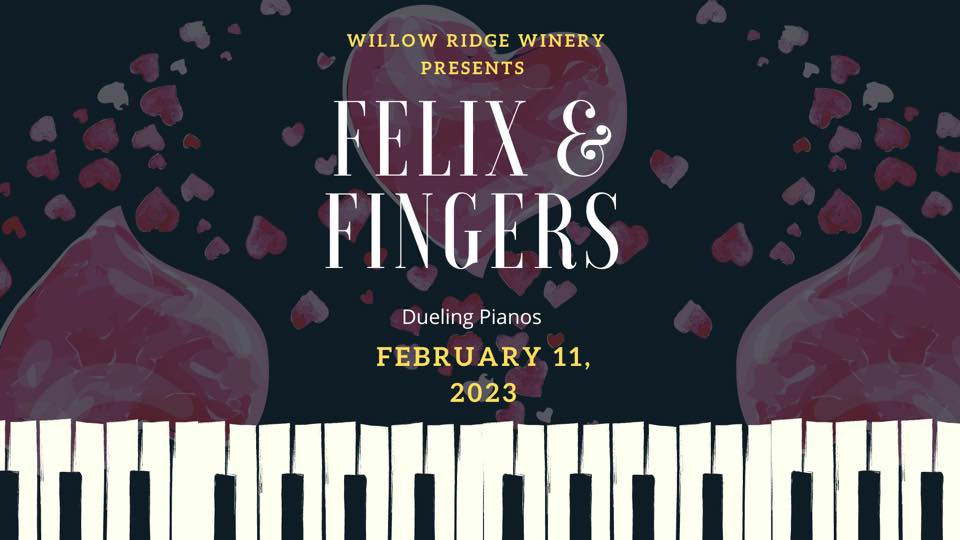 Dueling Pianos @ Willow Ridge Winery – Shelbyville, IL
Saturday, February 11, 2023 at 7 PM – 10 PM –
These events always sell out… especially on Valentine's Day weekend!!
Felix and Fingers is a dueling pianos company that thrives on audience participation. The high energy all request show will grab the crowd's attention, meanwhile the comedy and interactive elements are designed to keep the audience engaged.
The show is inherently flexible. Any age group or demographic can find something relatable in a dueling pianos show. Felix and Fingers has entertained family-friendly festival audiences, bars packed with 20-somethings, retirement communities, and everything between. And whether we are entertaining ten people or a lawn of thousands, the show adapts to the audience.
Dinner is included in the ticket price.
Purchase tickets here: Dueling Pianos Tickets, Sat, Feb 11, 2023 at 7:00 PM | Eventbrite
Tickets are $45.00 each and can be purchased online. If you make a reservation for a group of friends you will automatically be seated together; if members of your party make separate reservations, be sure to tell us you'd like to be seated with your friends.
Event by Willow Ridge Winery
Related Events