Fall Social @ Teutopolis Banquet Hall – Teutopolis, IL
November 3 @ 5:00 pm - 7:00 pm CDT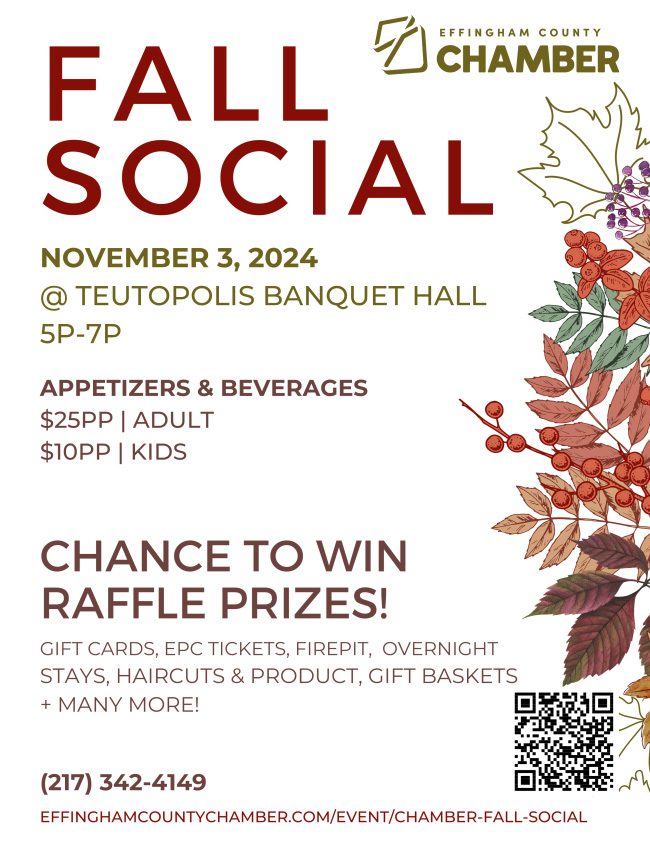 Fall Social @ Teutopolis Banquet Hall – Teutopolis, IL
Friday, November 3rd, 2023
5 pm – 7 pm –
Fall is here, and it's time for the
Effingham County Chamber Fall Social
We're thrilled to invite you to the event of the season, taking place on:
Date: Friday, November 3rd
Time: 5 PM – 7 PM
Location: Teutopolis Banquet Hall (Party Room)
We're going old school with the Fall Draw, but to a whole new level, and we can't wait to share the excitement with you.
Here's a sneak peek of what's in store:
Think of this as a Happy Hour infused with an extra dash of excitement!
Affordable Tickets: Secure your entry online for an incredibly wallet-friendly price of $25/adult & $10/child, which includes mouthwatering appetizers and a choice of beverages to tantalize your taste buds—beer, wine, and a refreshing selection of soft drinks—all available from 5 PM to 7 PM.
Raffle Prizes: Get ready to be a part of the action! Purchase raffle tickets at the event and dive into a world of prizes. Local businesses have generously contributed amazing items from local gift cards, kid-themed baskets, haircuts + product, to handcrafted firepits and overnight stays.
Tickets are available at $1 each, or you can grab six for just $5! It's your chance to handpick the prize you desire and place your ticket into the designated bucket. With a variety of options, there's something to delight everyone!
Calling All Generous Businesses: If you're a local business eager to join the fun, consider donating prizes or becoming a sponsor! Like all Chamber events, we're seeking sponsorships to make this event shine. Your support ensures we can keep the excitement alive while offsetting costs. Click here to learn more.
Kid-Friendly: Bring the little ones along, as we've got some special raffle prizes tailored just for them!
Get Your Tickets: Ready to join the party? You can snag your entry tickets ahead of time by clicking here, or simply drop by that evening for a night of great company, delicious treats, and all-around fun. Stay as long as your heart desires!
Mark your calendars, gather your friends, and let's make this Fall Social an unforgettable night of laughter, camaraderie, and cherished moments.
Event questions can be directed to Nicole Morrison at (217) 347-6282 or email.
Related Events