Funky Butt Brass Band @ Old Settlers – Hillsboro, IL
August 9 @ 8:00 pm - 10:30 pm CDT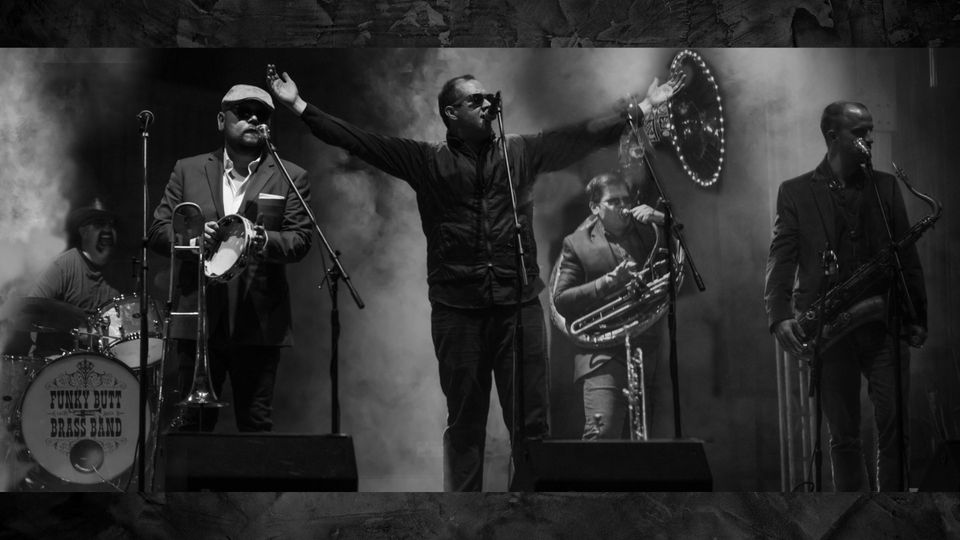 Funky Butt Brass Band @ Old Settlers – Hillsboro, IL
Wednesday, August 9th, 2023
8 pm – 10:30 pm –
Are you ready to get funky?
Making their long awaited return to Hillsboro will be the Funky Butt Brass Band. This time they will be gracing the Old Settlers Stage.
The Funky Butt Brass Band was formed in 2008 by six talented musicians who respect and revere the New Orleans brass band tradition. The FBBB takes classic New Orleans brass tunes and gives them a twist, in the style of Dirty Dozen Brass Band, Rebirth and Bonerama. But don't be surprised if you also hear some Minneapolis funk, Southern rock, Memphis soul, Chicago blues and St. Louis R&B in the mix.
Members :
Adam Hucke, Trumpet & Vocals
Bryan Fritz, Sax & Vocals
Aaron Chandler, Trombone & Vocals
Ron Sikes, Drums
Jim Peters, Guitar
Cody Henry, Sousaphone
This is a FREE show!
https://www.facebook.com/funkybuttbrassband
https://www.funkybuttbrassband.com/
Bring a chair if you'd like. Concert takes place on the side of the Historic Courthouse. Parking is limited close to the concert area but there is plenty on the side streets around town. It's a town fair after all
Sound for the show provided by Max Maguire Sound
https://www.facebook.com/MaxMaguireSound/
Event by Hillsboro Concert Series
Related Events