Girl Scout Cookie Booth @ Villas of Holly Brook – Charleston, IL
February 25 @ 10:00 am - 2:00 pm CST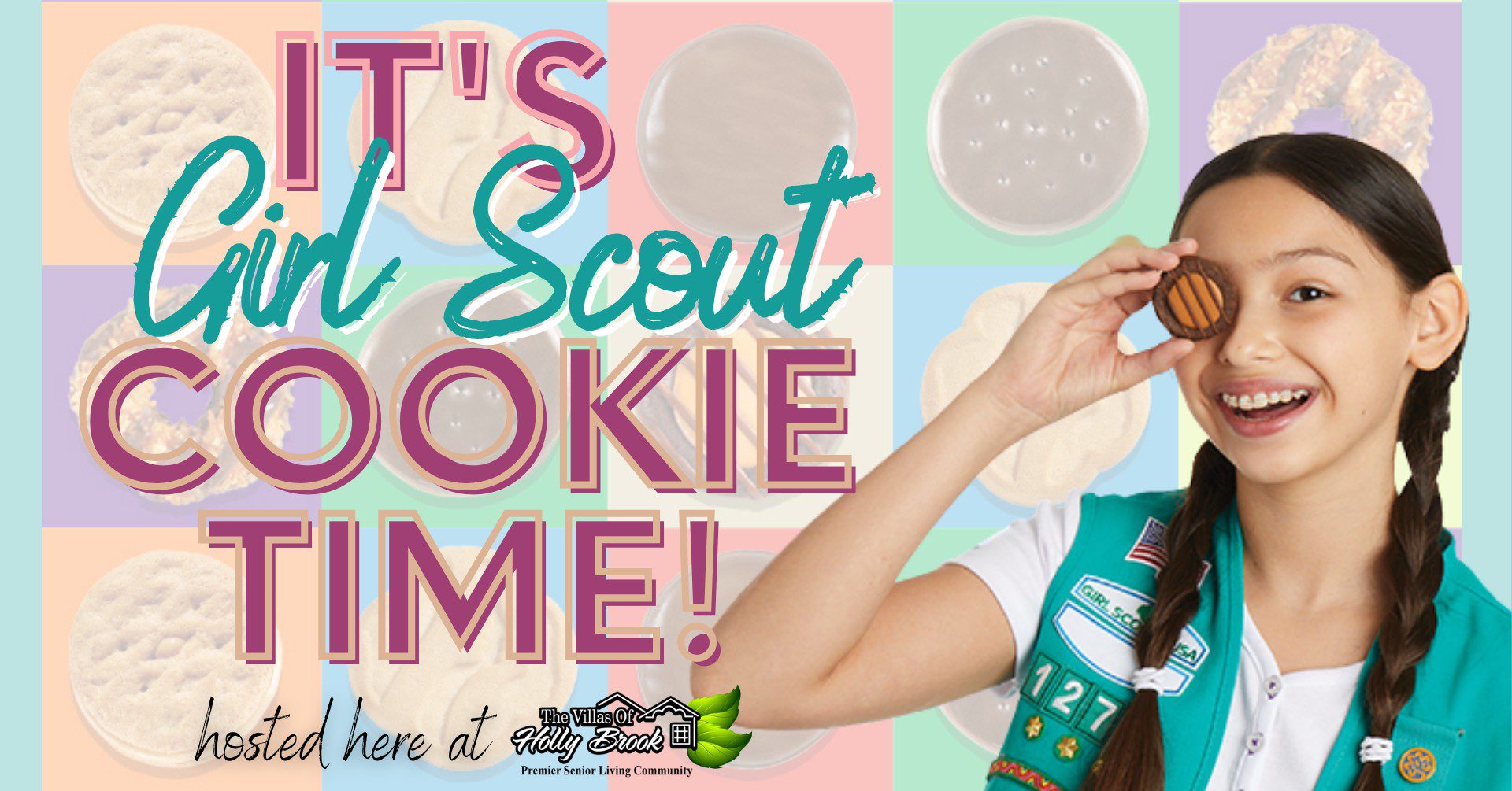 Girl Scout Cookie Booth @ Villas of Holly Brook – Charleston, IL
Saturday, February 25, 2023 at 10 Am – 2 PM –
GIRL SCOUT COOKIES WILL BE ON HAND!
PURCHASE & TAKE WITH YOU!
Help us support Girl Scouts and our community while enjoying a nice treat for you and your friends & family.
Now more than ever, when it comes to Girl Scout Cookies, you can taste the adventure in every delicious bite!
1910s: How it all began
Girl Scout Cookies were originally home baked by girl members with moms volunteering as technical advisers. The sale of cookies to finance troop activities began as early as 1917, five years after Juliette Gordon Low started Girl Scouts in the United States. The Mistletoe Troop in Muskogee, Oklahoma, baked cookies and sold them in its high school cafeteria as a service project.
Today: New cookie adventures
Who can forget the amazing moment in 2016 when Girl Scouts took the stage at the Academy Awards to sell cookies to Hollywood's A-list? It was a stellar beginning to the nationwide celebration of the 100th anniversary of Girl Scouts selling cookies. That continued with the introduction of Girl Scout S'mores®, which quickly became the most popular new cookie to launch in our history. And in 2020, our already iconic cookies reached a new level of awesome with new packaging that puts Girl Scout Cookie entrepreneurs front and center and also showcases all of the amazing things girls learn and do—through the Girl Scout Cookie Program and as Girl Scouts. The Cookie Entrepreneur Family pin collection that makes selling Girl Scout Cookies a family affair was also introduced in 2020.
And in 2021, all Girl Scout Cookies are both kosher and Halal certified. There are vegan and gluten-free varieties too.
In 2022, Girl Scouts across the country will began selling a new Girl Scout Cookie. Adventurefuls™, brownie-inspired cookies topped with caramel flavored crème and a hint of sea salt took the joys of buying and eating Girl Scout Cookies to a whole new level. This is the first time that both cookie bakers introduced the same cookie under a single name.
Event by Reflections Memory Care (Charleston, IL) and Villas of Holly Brook (Charleston, IL)
Related Events