Give them Shelter from the Storm: Red Cross Shelter Volunteer Training @ Effingham County EOC – Effingham, IL
December 10, 2022 @ 9:00 am - 12:00 pm CST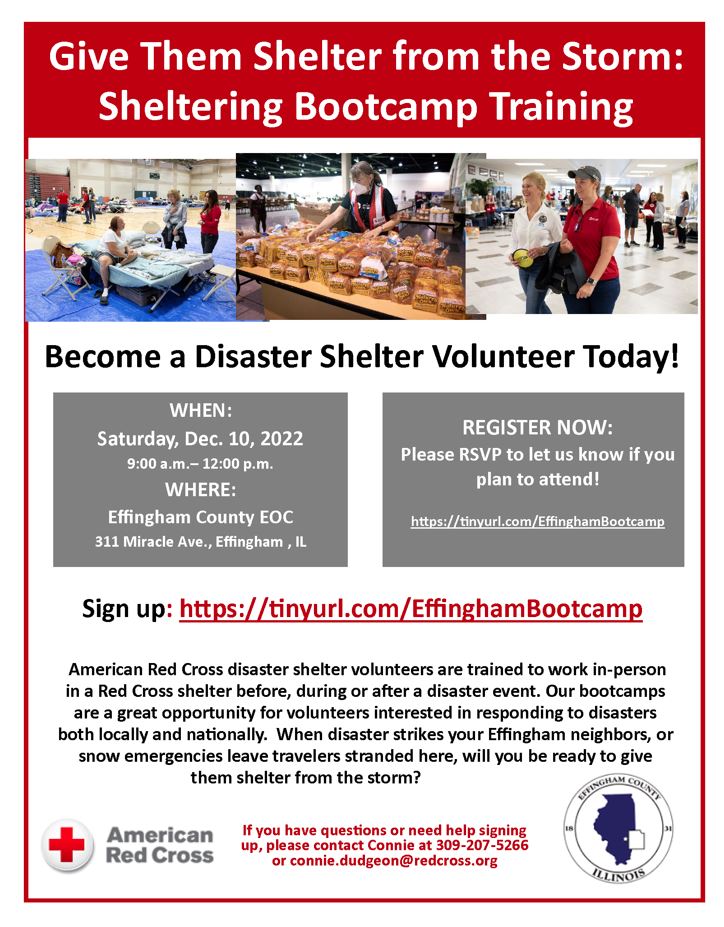 Give them Shelter from the Storm: Red Cross Shelter Volunteer Training @ Effingham County EOC – Effingham, IL
Saturday, December 10, 2022 at 9 AM – 12 PM –
When disasters like home fires or tornados displace your neighbors from their homes, or winter storms close the highways and strand travelers, will you give them shelter from the storm? We could use your help to operate local emergency shelters.
The American Red Cross and the Effingham County EMA are partnering to offer a free training session for interested local volunteers to share the basics of disaster response and shelter operations.
Please register using the link below to let us know you plan to attend! It's quick and easy. Meet other compassionate volunteers and learn how you can make a difference.
Cost:
$0
Registration Required:
Click here
Contact:
Jamie Beaver
309-222-5838
[email protected]
Related Events