Heritage Days 2022 @ American Farm Heritage Museum – Greenville, IL
July 29 - July 31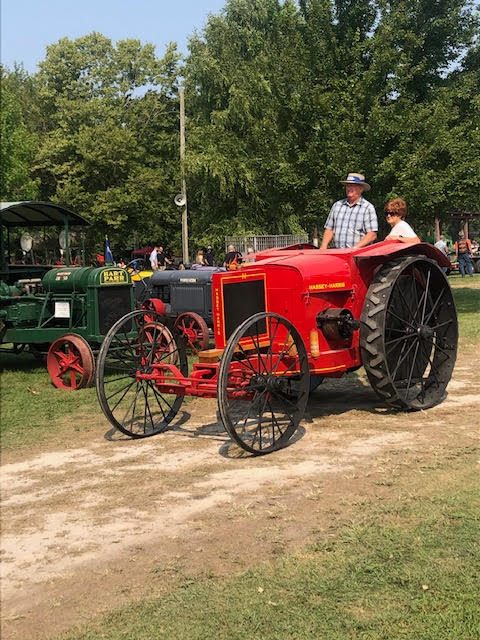 Heritage Days 2022 @ American Farm Heritage Museum – Greenville, IL
Friday, July 29
We're looking forward to seeing everyone at this awesome annual event to celebrate and showcase early farm life! We're hosting the Massey Collectors of IL along with the Tempered Tracks Rustic Rails crawler show. There will also be steam engines, gas engines, and all other brands of tractors and equipment. All displays are always welcome.
Many other fun things are also being planned for spectators – including a working sawmill, rock crushing, tractor pulls, the Lil' Red Barn displays, Hill's Fort, a military display, train rides, music, food, a flea market, a Sunday Car Cruise and so much more. We hope to see you there!
Admission is $10 for a 3-day armband. Kids under 12 are free. Sunday-only admission will be $5
For Kiddie Pedal Pulls, the scoring is cumulative with prizes awarded on Sunday.
We strongly encourage advance golf cart rental reservations. Details to the reservation link (including payment information) can be found at this link: https://www.cognitoforms.com/AmericanF…/GolfCartRental2022
Check out our video on Youtube!
https://www.youtube.com/watch?v=JL7r5Ne8lwI
Friday highlights:
Magic Show (11 a.m.)
4-Corners Tractorcade Arrives (12:30 p.m.)
Medicine Man Show (1 p.m.)
Plowing & Other Demonstration Areas (2 p.m.)
Kid's Pedal Pull (6 p.m.)
ITPA Super-Stock Garden Tractor Pull (6 p.m.)
Saturday Highlights:
Kid's Pedal Pull (10 a.m.
Antique Tractor Pull (10 a.m.)
Threshing/Baling (10 a.m.)
Medicine Man Show (10 a.m.)
Demonstrations (10 a.m.)
Magic Show (Noon)
Plowing (2 p.m.)
Kid's Pedal Pull (3 p.m.)
Sunday Highlights:
Church Service (8 a.m.)
Farm Stock Tractor Pull (10 a.m.)
Threshing/Baling (10 a.m.)
Demonstrations (10 a.m.)
Car Cruise Displays (11 a.m.)
Kid's Pedal Pull (1 p.m.)
Event by The Illinois-Missouri Tractor & Engine Club, Hill's Fort Society and American Farm Heritage Museum
Related Events