House Plant Swap @ Crooked Creek Winery Downtown – Centralia, IL
March 1 @ 6:30 pm - 8:00 pm CST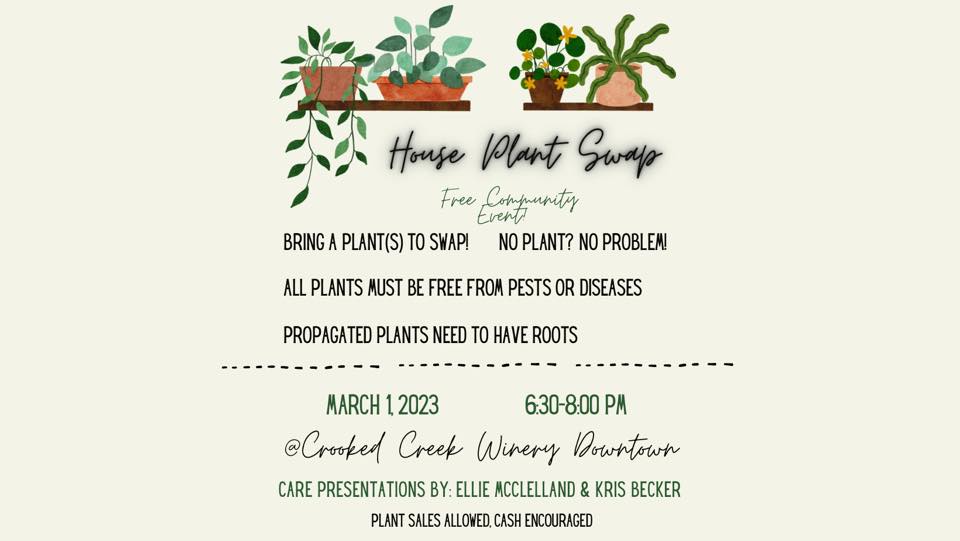 House Plant Swap @ Crooked Creek Winery Downtown – Centralia, IL
Wednesday, March 1, 2023 at 6:30 PM – 8 PM –
House Plant Swap
In efforts to #GrowCentralia, I am cohosting another (houseplant) swap with Kris Becker & Crooked Creek Winery
There are no fees or registration needed to attend!
Bring a plant or two to exchange! No plant? No problem!
ALL Plants must be FREE from any pests or diseases!
Propagated plants can still be in propagation but do need to have some roots established!
Care Presentation By: Ellie McClelland & Kris Becker
This is a FREE event however Kris will have plants for sale!
Event by Ellie's Place and Crooked Creek Winery Downtown
Related Events