Jeff Plankenhorn – Sunday Funday @ Village Wine – Effingham, IL
October 15 @ 2:00 pm - 5:00 pm CDT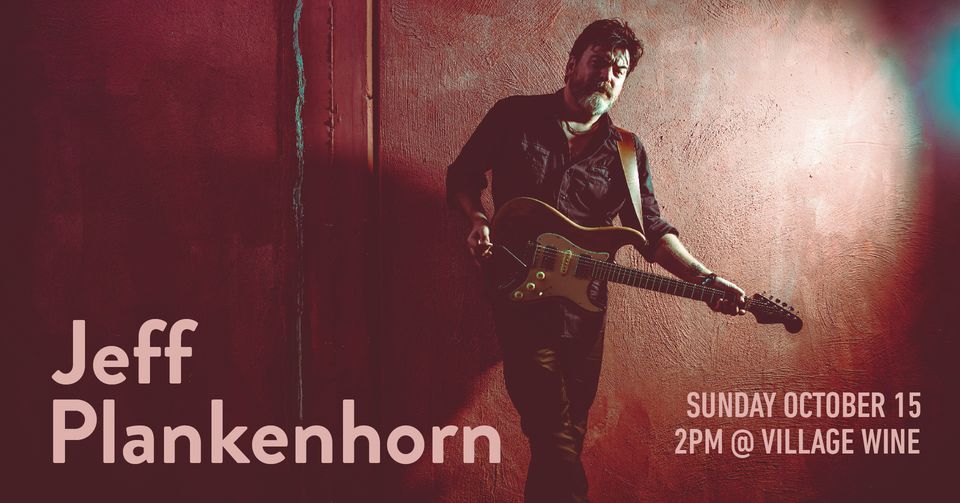 Jeff Plankenhorn – Sunday Funday @ Village Wine – Effingham, IL
Sunday, October 15th, 2023
2 pm – 5 pm –
Join us for Sunday Funday with Jeff Plankenhorn!
Jeff Plankenhorn is pleased to announce the upcoming release of his 4th album, Alone At Sea on September 29th via Blue Corn Music.
Plankenhorn's songwriting, expressive vocals, and musicianship are front and center on Alone At Seaproduced by Colin Linden (Bruce Cockburn, Keb Mo) explores new sonic territory on this gem of a long player. Lyrically that exploration manifests in songs such as the title track, which poured out of Plankenhorn, aka Plank, so fast, he had to be convinced not to tamper with it.
The ballad "Alone At Sea" is nestled between two of the album's many up-tempo tunes and envisions an adventurous soul who's searching for self-awareness and learns to appreciate solitude — as Plank has since moved to Canada's Vancouver Island freed him from his previously landlocked Austin, Texas existence.
Plank's time in both locations reminded him of long-ago experiences singing in foreign languages, which inspired him to record versions in French and Spanish for separate release (November 1st.) "Singing in Italian, German, French, etc., expanded my worldview," he says. Having become a permanent resident of Canada, I am long overdue to sing in other languages. 'Alone At Sea' seemed like the perfect song, as its translations sounded beautiful in both non-native-to-me tongues."
Born in Ohio and raised in Michigan, Plank's musical travels began when his older brother gave Jeff his first guitar at age ten. Fast forward to his dropping out of college because his three bands (a bluegrass group, a hip-hop collective, and a 12-piece funk outfit) were doing so well. His musical journey led to Memphis and a chance meeting with Texas singer-songwriter Ray Wylie Hubbard – as well as to Plank's 20-year sojourn in the Lone Star state. The slide guitarists' next level talent opened many doors leading Jeff to perform with the likes of Hubbard and Joe Ely, Ruthie Foster, Bob Schneider, the late Jimmy LaFave, and others. In 2016, he officially launched a new chapter as a solo artist with the release of Soulside.
His actual first solo album, 2003's Plank, included a contribution by British-born Rock 'n' Roll Hall of Famer, the late Faces/Small Faces/Rolling Stones keyboardist Ian McLagan — paid tribute on the Alone at Sea blues-rocker "Juggling Sand." "I hope that someday I learn to play piano like him," says the too-modest Plank, whose luscious licks always get audiences moving when he reunites with his Purgatory Players' partner, Scrappy Jud Newcomb. In fact, Newcomb shares writing credits on two songs: "Flat Tire," a horns-of-a-dilemma, get-me-out-of-this-jam tale, and "Maybe It's Not Too Late." A favorite at the Purgatory Players' weekly fundraising "pseudo-gospelish brunches," the up-tempo tune, full of tasty slide guitar and horn work, is a nod to Plank's love of the sacred steel tradition born in African-American Pentecostal churches.
Newcomb & Plank are also in another legendary Austin band, The Resentments – who hold down Austin's longest running residency at the world-famous Saxon Pub. Started by the late Stephen Bruton, this cast of Austin's top players and writers get together every week for new songs and new adventures in banter and road stories. The Resentments includes Scrappy Jud Newcomb, Bruce Hughes, John Chipman, Miles Zuniga, and Plank (when he's in town).
Though his live performances include shifts among piano, electric guitar, and his famed "Plank," the self-designed hybrid lap-steel guitar he plays standing up, "Maybe It's Not Too Late" is the only Alone At Sea track on which he plays it. Plank says that's because, when Linden heard the demos that he'd recorded with acoustic guitar and lap steel, the producer liked them so much he built his vision for the album around that sound. So, Plank concentrated on acoustic, while Linden contributed electric and 12-string acoustic guitars.
For Jeff Plankenhorn, there's nothing quite like the feeling of bringing people together to experience the joy music brings. He's so good at it that he's been recognized with Austin Music Award nominations for Musician of the Year, Best Guitarist, and Best Misc. Instrument. In 2016-2017, he also earned Album and Song of the Year nominations for his album, SoulSlide, and the single, "Trouble Find Me."
Listeners quickly get that Plank loves a good groove, but he's also become quite accomplished at ballad-writing, as proven by two of the album's other standouts, "Bluer Skies" and You'll Stay". Still, despite his newfound love of solitude, for Jeff Plankenhorn, there's nothing quite like the feeling of bringing people together to experience the joy music brings.
These days Plank happily finds himself on the road over 150 days a year. "I like the idea that people get uplifted at my shows, there are so many ways to get away from the hubbub of day-to-day living. Dancing is one of the more noble and effective, in my humble opinion. Better than any drug I've ever tried. I like the idea that everybody who walks in — I don't care if you're a biker or a drag queen — I want you there. Music is supposed to bring people together."
His music does exactly that — whether people come to listen or do a little dancing. Or ideally, both.
Event by Village Wine and Jeff Plankenhorn
Related Events