Leann's Legacy Barn Bash @ Jewett, IL
August 12 @ 5:00 pm - 12:00 am CDT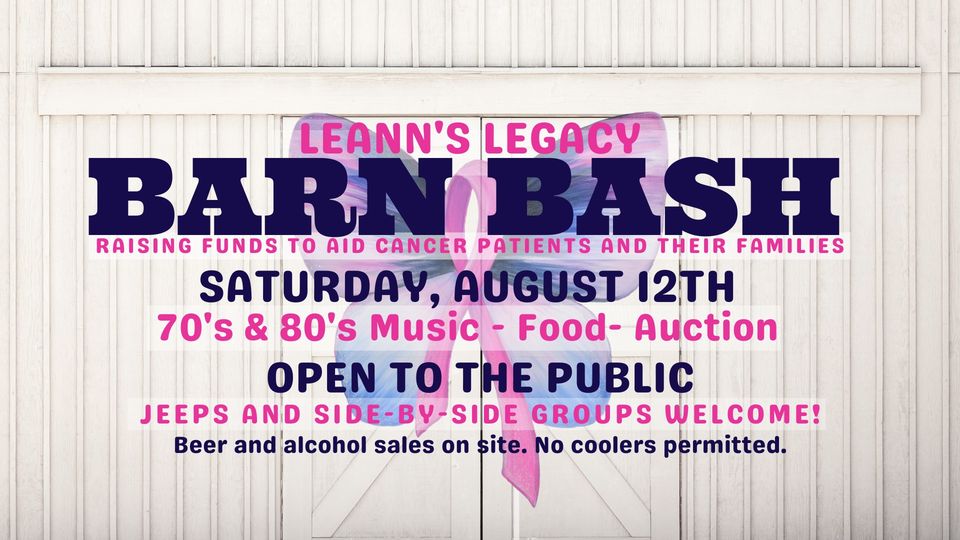 Leann's Legacy Barn Bash @ Effingham, IL
Saturday, August 12th, 2023
5 pm – 12 am –
Join us for a night of fun and festivities at LeAnn's Legacy Barn Bash on August 12th! The event will be held at 6480 E. 2200th Ave, Jewett (follow the banners), just 3 miles south of Jewett on the Gila Rd. This exciting event is open to the public, and we especially welcome Jeeps and side by side groups to join in the fun!
Doors will open at 5:00 pm, so come early and get settled in. We will have a cash bar available throughout the evening, so you can enjoy your favorite drinks while mingling with friends and fellow attendees.
One of the highlights of the night will be a live auction, where you can bid on unique items and experiences. The auction will take place from 6:00 pm to 9:00 pm, so make sure to arrive in time to browse the items up for grabs.
While you enjoy the evening, don't forget to grab some delicious food, which will be available from 6:00 pm to 9:00 pm, so you can fuel up and keep the party going.
LeAnn's Legacy Barn Bash promises to be a memorable night filled with great company, entertainment, and fantastic auction items. Mark your calendars and make plans to attend this exciting event!
Event by LeAnn's Legacy
Related Events