Mardi Gras Party with Zydeco Voodoo @ Willow Ridge Winery – Shelbyville, IL
February 18 @ 6:00 pm - 9:00 pm CST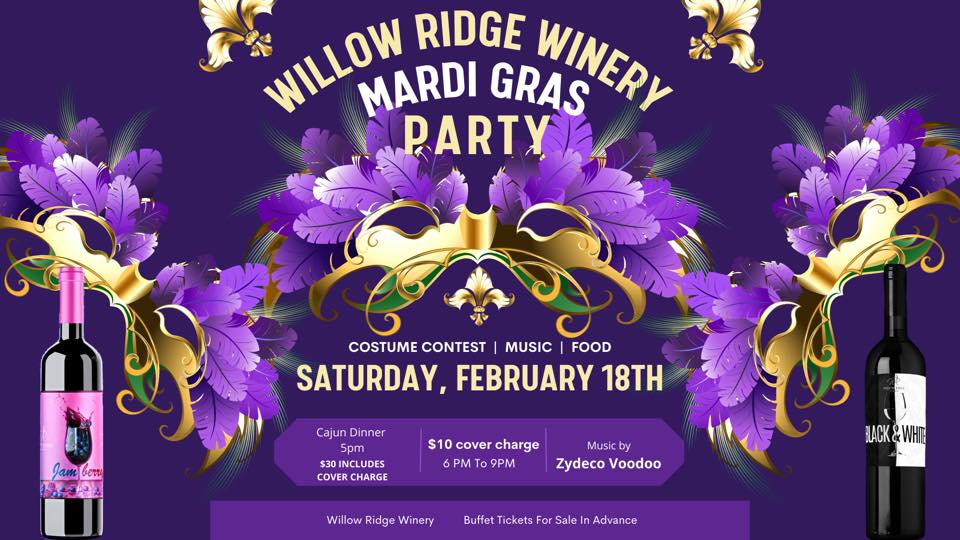 Mardi Gras Party with Zydeco Voodoo @ Willow Ridge Winery – Shelbyville, IL
Saturday, February 18, 2023 at 6 PM – 9 PM –
The Zydeco Voodoo band will play from 6-9 pm
There will be a Cajun Dinner at 5 pm, tickets are $30 and include cover charge for band OR come at 6 pm for band only for a $10 cover charge.
Dinner Menu:
Red Beans and Rice
Grits
Jambalaya with shrimp, andouille sausage and chicken
Muffeletta Sandwich
Chicken Po Boys
Beignets
We have to order food, so dinner tickets must be purchased by February 15. There is a limited number of dinner tickets available.
Purchase tickets here: Mardi Gras Party with Zydeco Voodoo Tickets, Sat, Feb 18, 2023 at 5:00 PM | Eventbrite
There will be beads, masks and a costume contest if you wish to participate. There will special sangria and slushie flavors.
Event by Willow Ridge Winery and Zydeco Voodoo
Related Events