Menstrual Health: Our 5th Vital Sign @ Effingham Pelvic Health & Wellness, PLLC – Effingham, IL
May 4 @ 6:00 pm - 8:00 pm CDT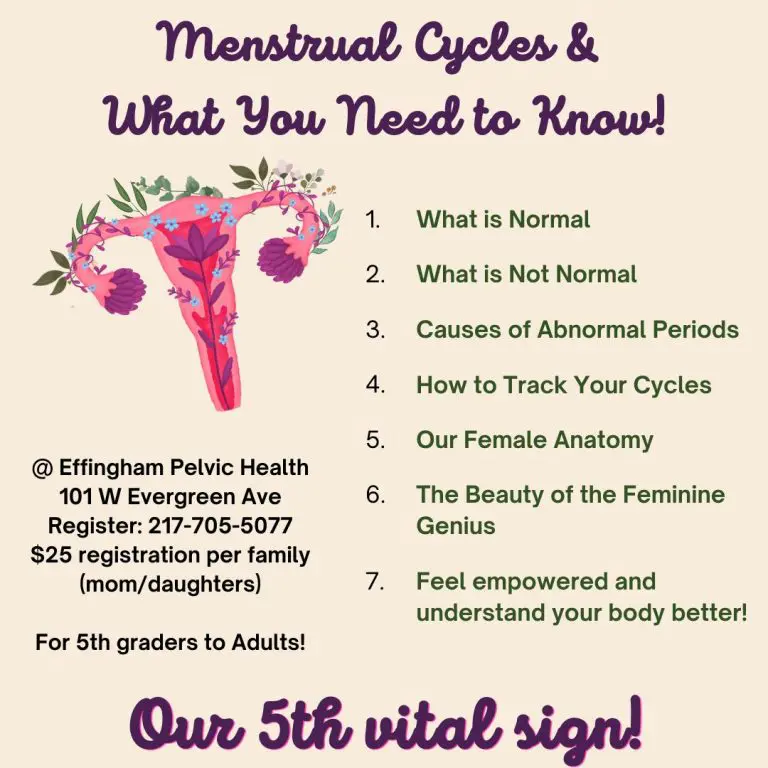 Menstrual Health: Our 5th Vital Sign @ Effingham Pelvic Health & Wellness, PLLC – Effingham, IL
Thursday, May 4th, 2023
6 pm – 8 pm –
Come learn about your menstrual cycle & what we women should know!
This is for 6th graders through adults. Find out what is normal, what is not normal, the phases, causes of abnormal periods, how to track your cycle, our female anatomy, options other than birth control, different options for menstrual products, and the beauty of the feminine genius!
Our goal is to make you feel empowered and appreciate and understand your body better! This class is set up for mom and teen daughters to attend together as well as for 20-40 year olds that want to better understand their cycles and fertility.
Class is taught by Dr. April Ritz, PT, DPT.
Cost:
$25 (per family)
Registration required:
Call (217) 705-5077 or https://effinghampelvichealth.janeapp.com
Questions should be directed to Lori at Effingham Pelvic Health, (217) 705-5077
Follow our Facebook event for the most up to date details.
Related Events