Mother & Son Battlefest-Palooza @ Central Park – Hillsboro, IL
June 25 @ 1:00 pm - 5:00 pm CDT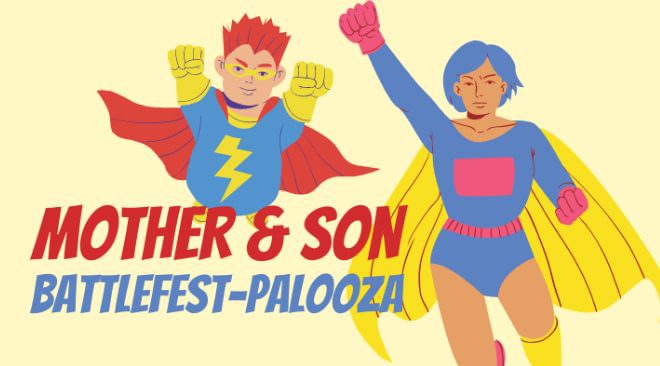 Mother & Son Battlefest-Palooza @ Central Park – Hillsboro, IL
Sunday, June 25th, 2023
1 pm – 5 pm –
Get ready for the newly revamped Imagine Hillsboro Mother-Son BATTLEFEST-PALOOZA! This exciting and epic event promises to bring out the child in every mom-and-son duo. With water guns, bounce houses, obstacle courses, and delicious pizza, you're guaranteed to have an unforgettable day.
Get ready to cool off with water guns as you team up with your son to soak your opponents in an epic water gun battle. Then, test your agility and speed as you race through obstacle courses that will challenge even the most competitive of pairs.
For those looking for a little more bounce in their step, the event features multiple bounce houses for endless jumping and bouncing fun. When it's time to recharge, participants can visit the Fueling Station to load up on Gianni's pizza, soda, and ice cream from The Waffle Cone!
Don't miss out on this amazing opportunity to bond with your son and make memories that will last a lifetime. Whether you're a mom looking to unleash your inner beast or a son looking to show off your skills, this event is perfect for all ages and promises to be a day filled with laughter, fun, and adventure. Come on out and join the fun!
Note: Because this day will surely be rambunctious, we offer a special time slot (1:00 to 3:00) for Littles under 5 years old. This does not mean that Littles cannot attend the second time slot between 3-5 p.m. Send questions to the event chair, Kaitlyn Fath, at [email protected]
Please see link above for registration.
$20 per mother/son combo + $5 per additional child
$30 per mother/son combo for day-of registration + $5 per additional child.
Event by Imagine Hillsboro
Related Events