Murder at the Haunted Winery – Murder Mystery Dinnery
October 5 @ 6:30 pm - 9:30 pm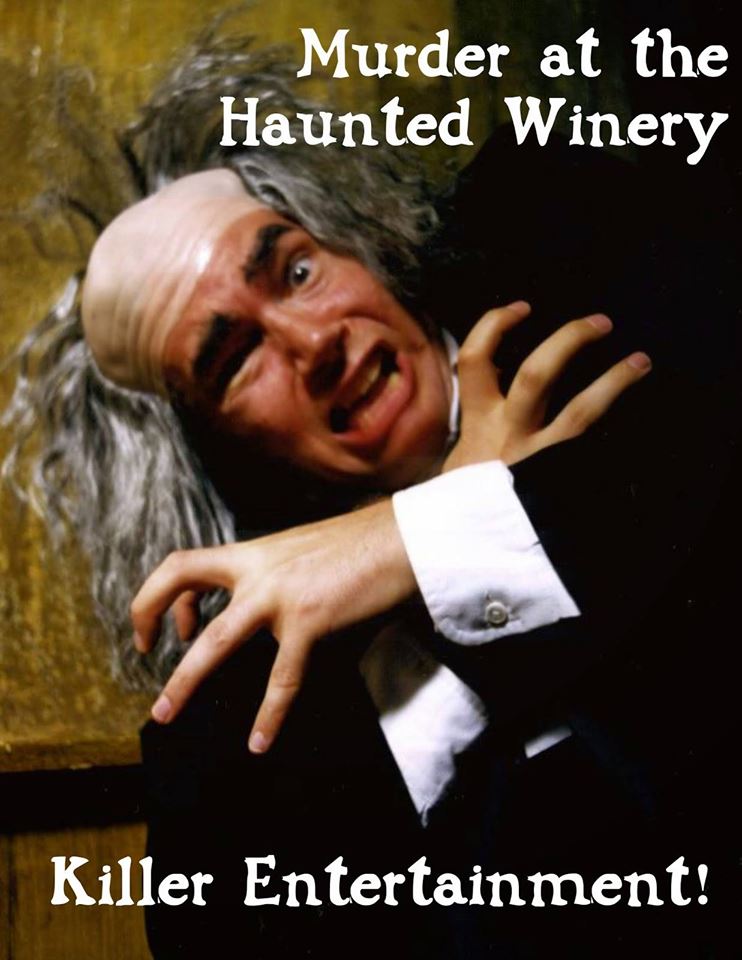 Pansy, Roger Worthington's first wife has been murdered. Who dunnit? Was it Jeeves the psychotic but lovable butler? Abigail, the beautiful but greedy fiance? Or the person sitting beside you? Find out in this inter-active comedy of terrors.
Our dinner theater events are a riot and will have you laughing all evening! Reservations are required and will be taken until one week prior to the show. Reservations can be made by calling 217-738-2323. Payment is due at the time of reservation. Seats have been known to sell out quickly so call us as soon as possible!
Tickets are $45 each and include a three course dinner and the performance. There are 8 seats per table but you are free to purchase as many or as few tickets as you need. If you make a reservation for a group of friends you will automatically be seated together; if members of your party make separate reservations, be sure to tell us you'd like to be seated with your friends.
Social time begins at 6:30 pm and the dinner begins at 7 pm with a plated salad. The first act begins as soon as the first course is complete. A buffet style dinner is served after the first act, giving you time to restock the wine at your table too! A plated dessert will be served near the end of the show.
The performances are created and performed by Upstage Productions, which has been producing interactive comedy murder mysteries since 1989, Upstage's shows are a perfect blend of witty improvisation and legitimate mystery. They perform at a variety of locations all over the United States with a strong following wherever they perform, and have been doing shows at Willow Ridge Winery for over three years. Some of their fans have been to over fifty of their performances across the country! Don't miss this terrific evening of comedy, mystery, and murder at Willow Ridge Winery!
Tickets can be bought by calling the winery at 217-738-2322, or using the link below!
Related Events