Old Dominick Whiskey Tasting @ Village Wine – Effingham, IL
May 30 @ 5:00 pm - 7:00 pm CDT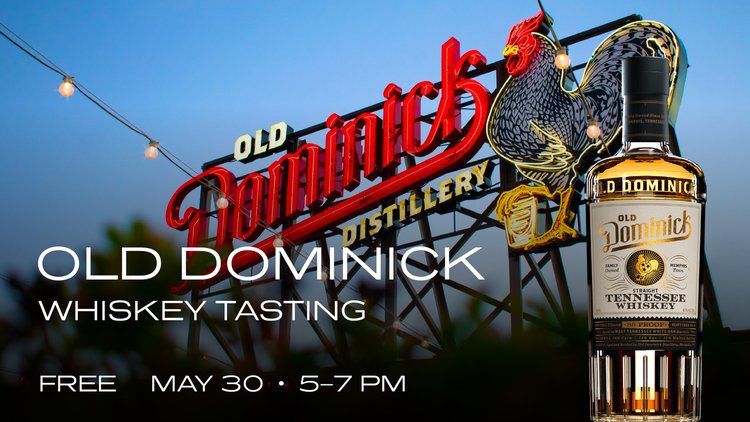 Old Dominick Whiskey Tasting @ Village Wine – Effingham, IL
Tuesday, May 30th, 2023
5 pm – 7 pm –
Join us for a free tasting of the Old Dominick Distillery line!
We'll be tasting:
Old Dominick Tennessee Whiskey
Old Dominick Bottled In Bond Tennessee Whiskey
Huling Station Straight Bourbon
Old Dominick Gin
From Old Dominick: "In 1866, Domenico Canale, an Italian immigrant, founded our parent company D. Canale and Co. as a wholesale distribution company. His first distribution warehouse was located at the corner of Huling and Front. One thing was synonymous with the Dominick brand which was, "Quality Products by Quality People", a principal adage that Domenico ensured not only was practiced then but that also lives on today.
The whiskey business for Domenico was going great until Prohibition hit the U.S. Domenico knew what was happening as it was affecting his business and 3 days before the ratification of the 18th Amendment, Domenico passed away. With his passing, our whiskey brand went silent but thankfully wasn't lost forever.
In 2013, Alex and Chris, first-cousins and fifth-generation Canales, unearthed a decades-old, unopened bottle of Dominick Toddy and were inspired to get back into the whiskey business and relaunch the Old Dominick brand.
Today, in the heart of downtown Memphis and just steps from D. Canale's historic Huling Station warehouse, Old Dominick Distillery carries on the family legacy, lifting Domenico's spirits—in more ways than one. Overlooking the Mighty Mississippi sits our world-class distillery."
Related Events