Secrets of a Puzzle Master – A Conversation with Will Shortz via Zoom – Effingham, IL
April 25 @ 7:00 pm - 8:00 pm CDT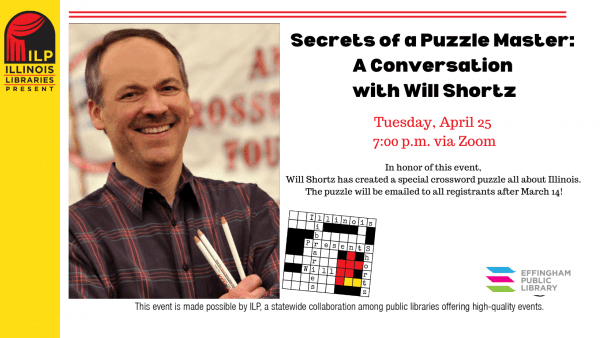 Secrets of a Puzzle Master – A Conversation with Will Shortz via Zoom – Effingham, IL
Tuesday, April 25th, 2023
7 pm – 8 pm –
Calling all crossword fans! Join us as Will Shortz, the editor of The New York Times crossword puzzle, and the world's only academically accredited puzzle master, discusses crossword puzzles.
The author/editor of more than 500 puzzle books, Shortz is also the puzzle master for NPR's Weekend Edition Sunday and the founder and director of the American Crossword Puzzle Tournament, held annually for more than 40 years. Through his championing of puzzles Will has earned admiring fans from all over the world.
In honor of this event, Will Shortz has created a special crossword puzzle all about Illinois. The puzzle will be emailed to all registrants after March 14!
This event is made possible by Illinois Libraries Present, a statewide collaboration among public libraries offering premier events. ILP is funded in part by a grant awarded by the Illinois State Library, a department of the Office of Secretary of State, using funds provided by the U.S. Institute of Museum and Library Services, under the provisions of the Library Services and Technology Act (LSTA). ILP is committed to inclusion and accessibility. To request accommodations, please email [email protected]
Related Events