Seed Exchange & More @ Centralia Regional Library District – Centralia, IL
February 6 @ 4:00 pm - 6:00 pm CST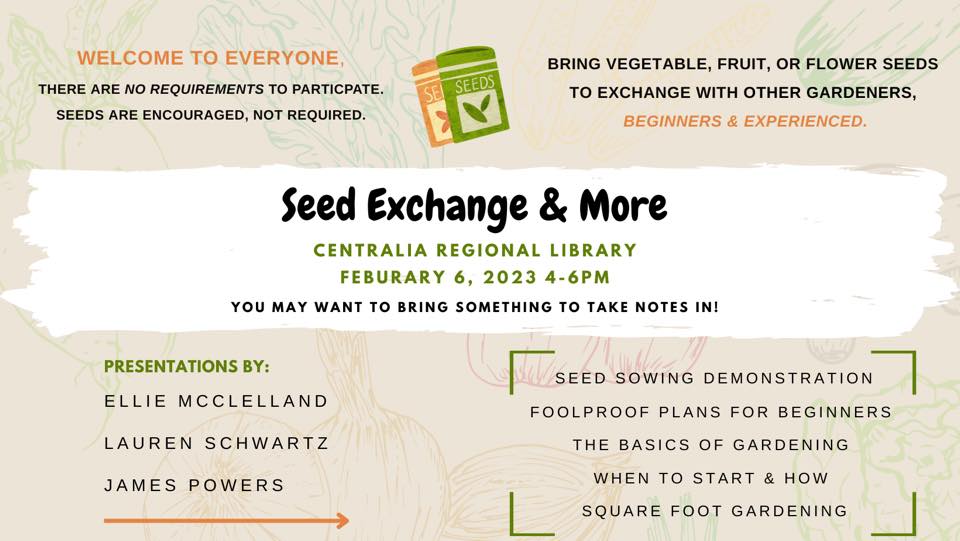 Seed Exchange & More @ Centralia Regional Library District – Centralia, IL
Monday, February 6, 2023 at 4 PM – 6 PM –
You're Invited!
Join us on February 6th at the Centralia Regional Library from 4-6PM
Bring any variety of fruit, vegetable or flower seeds to exchange with your fellow community members! Seeds are not required to participate but are strongly encouraged!
Little to no space? Not sure where to start?
No problem! We will talk about maximizing your area with square foot gardening and fool proof plans for a successful season.
Welcome to Everyone!
There are NO requirements to participate. This is a FREE event for the community. It is geared towards those interested in gardening, from beginner to expert levels. You will leave with the seeds and knowledge to start or add to your own home garden!
Donations Needed: Soil & Small Envelopes
I recommend bringing something to take notes in!
Keynote Speakers: Ellie McClelland, Lauren Schwartz & James Power
Event by Centralia Regional Library District & Ellie's Place
Related Events