Seniors with Attitude Group @ Effingham Public Library – Effingham, IL
April 3 @ 10:30 am - 11:30 am CDT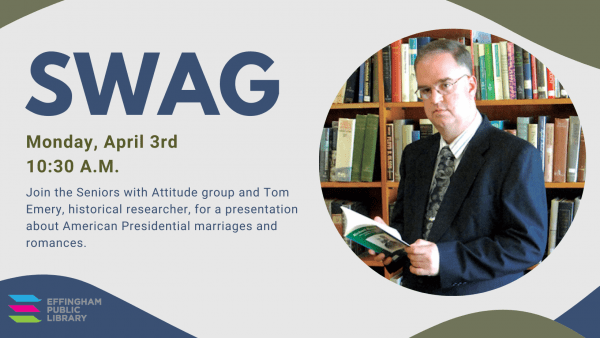 Seniors with Attitude Group @ Effingham Public Library – Effingham, IL
Monday, April 3rd, 2023
10:30 am – 11:30 am –
Join the Seniors with Attitude group and Tom Emery, historical researcher, for a presentation about American Presidential marriages and romances.
Tom Emery is a writer and historical researcher from Carlinville. He has won 15 awards from the Illinois State Historical Society in his career. He has been published in more than 150 newspapers and has written 39 book and booklet titles.
The program will offer a fascinating look at the marriages, romances, and love lives of the American presidents. While some of the most famous presidents will be covered, this program will also highlight some of the lesser-known presidents while discussing the successes and failures of their marriages.
No registration required.
Pls contact Lisa at [email protected] with questions.
Related Events