Silent Day Retreat @ Claybank Health & Wellness – Olney, IL
January 29 @ 8:00 am - 6:00 pm CST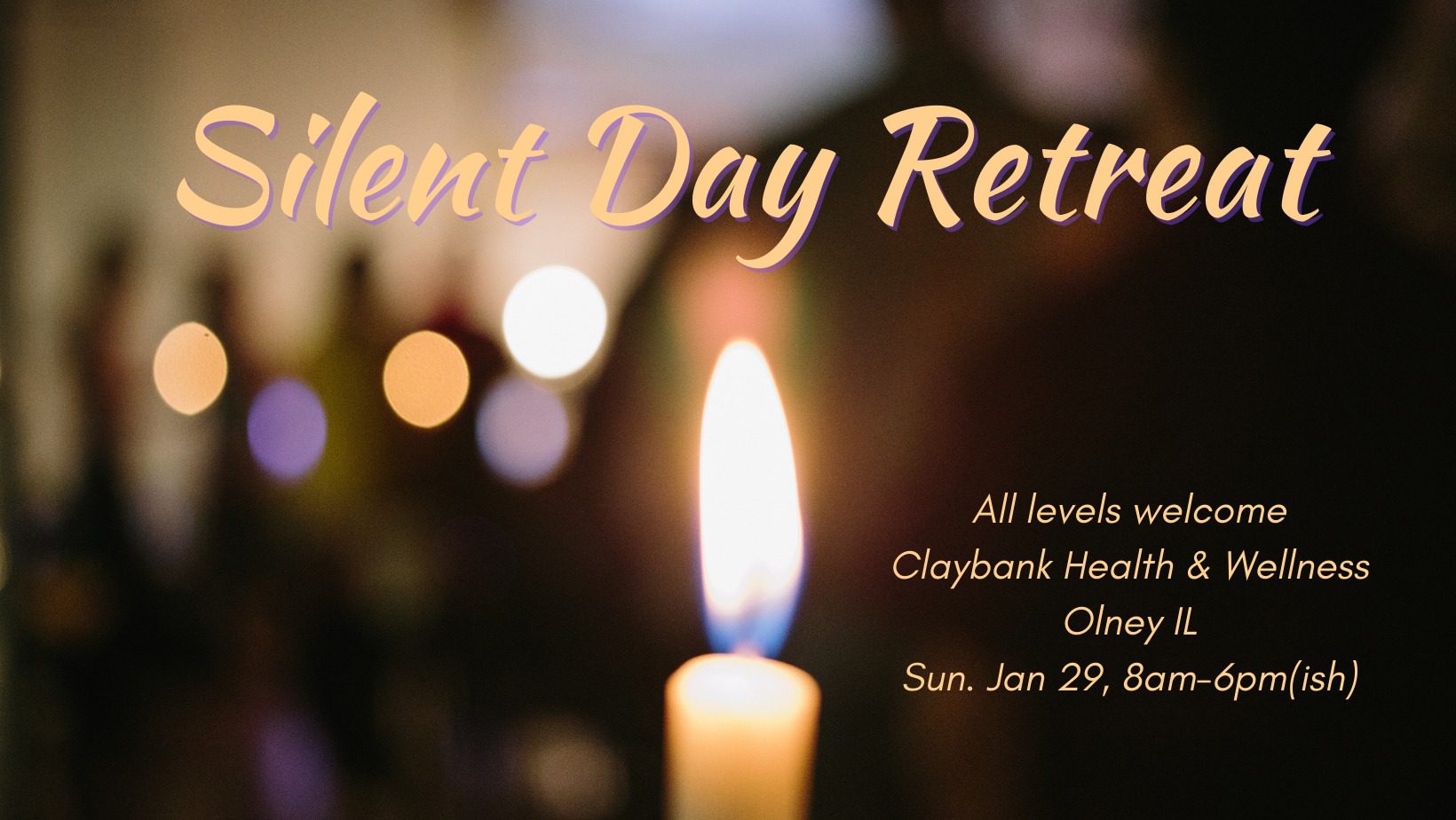 Silent Day Retreat @ Claybank Health & Wellness – Olney, IL
Sunday, January 29, 2023 at 8 AM – 6 PM –
Join us for a mindful one-day silent meditation retreat! Silence is deeply soothing to our mind & body. Throughout this day together, we'll do our best to remain silent in body and mind, building our focus and concentration and "detoxing" from distracted modern life.
Most silent retreats start at 3 or 7 days, which is a big commitment! We wanted to work our own way up to a day of silence, and see if this will help our meditation practice and we welcome anybody who's curious about meditating with us.
We'll provide light vegetarian meals and snacks as well as herbal teas throughout the day.
Tickets can be bought at Claybank by cash or check or in the link listed below by debit/credit.
Silent Day Retreat Tickets | Claybank Health & Wellness (simpletix.com)
What do we mean by all-day silent meditation? We won't just be sitting. We will work our way up from 30-minute non-guided silent meditations to 60-minute meditation sessions throughout the day. Weather permitting, we will do some silent mindful walking meditations around the block (or inside the store if needed!) and engage in some stretching and light yoga.
We will also mindfully listen to "dharma talks" and prepare and partake in lunch silently, until we break our silence with a light dinner together at about 5pm!
We do not care if you can sit in full lotus pose for hours, or if you prefer to sit in a chair or lay down during meditation. We just want to create the space for us to support each other in the difficult, but worthwhile, pursuit of silence and peace. We'll all do our best.
To cover the cost of the space and the meals, we ask that you pay between $40-$60 for this full day retreat, depending on your means. We are capping registration at 10 participants so that each individual has plenty of space. If you have any questions or special dietary needs please email [email protected]
Related Events