Tuscola's Boo Bash @ Downtown Tuscola, IL
October 25 @ 5:00 pm - 7:00 pm CDT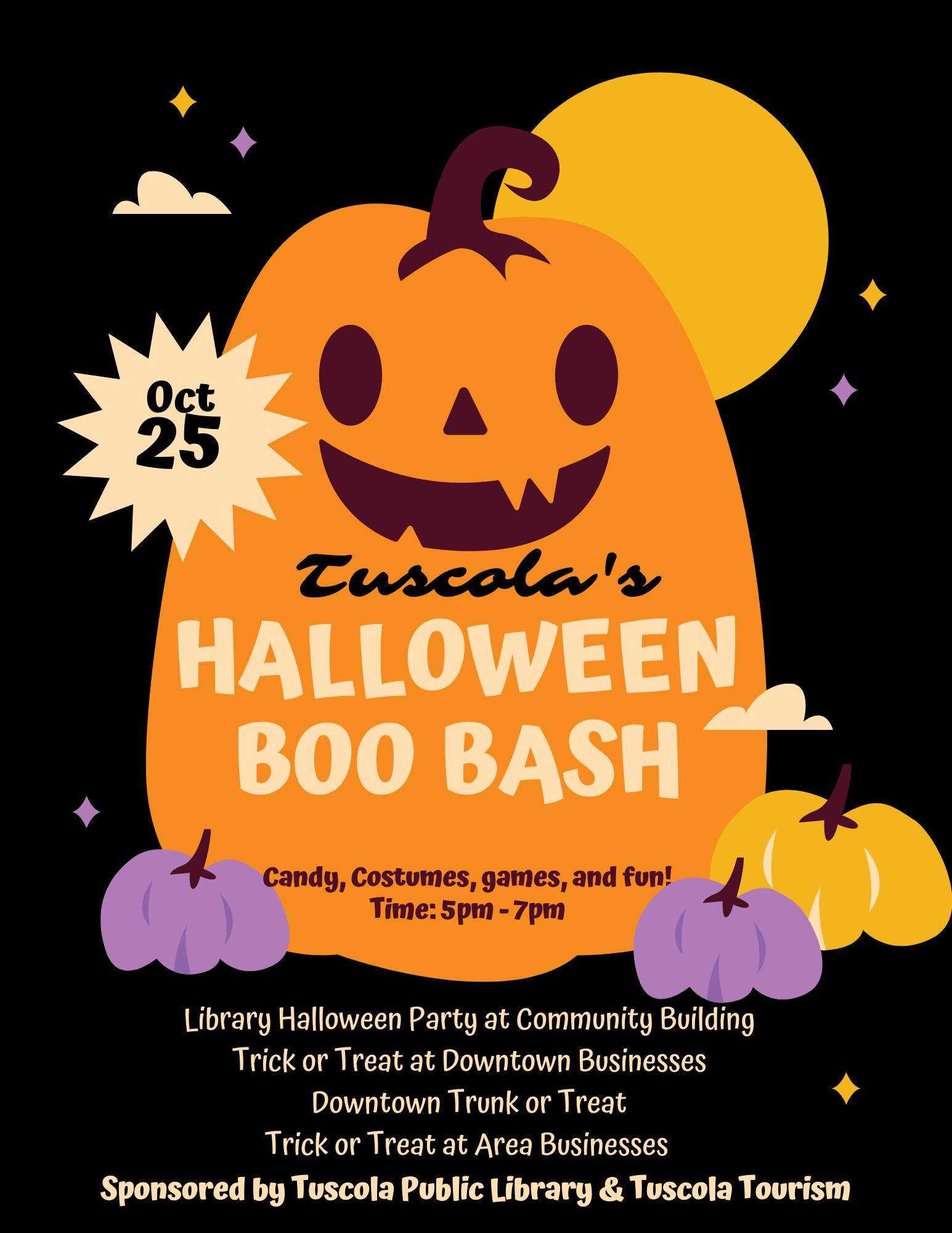 Tuscola's Boo Bash @ Downtown Tuscola, IL
Tuesday, October 25, 2022 at 5 PM – 7 PM –
Halloween comes early to Tuscola! Grab your tiny ghouls and goblins for a fun family friendly event!
Library Halloween Party
The Tuscola Library hosts their annual halloween party at the Community Building!  Join them for fun activities and games and of course candy! Be sure to hop on the hayrides at the Community Building for a short trip around downtown Tuscola!
Downtown Trick or Treat
Downtown businesses will be open late for trick or treating!
Joes' Pizza
Flesor's Candy Kitchen
Downtown Design Studio
Rainbows and Sunshine
The Vault Arts
Shimmer and Sheek Boutique
Larsson Woodyard and Henson
Aldridge Collectibles
Senior Center- First Baptist Church
Mi Veracruz
Winterberry Antiques
Rally Point Fitness
Trunk or Treat
Organizations and businesses will be lined up in the empty lot downtown next to 132 W Sale St.
Trunk or Treat is a fun, safe, and convenient way for children and families to celebrate Halloween and trick or treat in one location. Vehicles will be parked together, decorated in a Halloween theme, and will be full of candy and goodies. Children can walk from trunk to trunk to look at the decorations and receive candy and other treats.
If you business or organization would like to be included- please email [email protected] is sign up!
Other Participating buisnesses
Be sure to cruise thru other participating businesses staying open late for trick or treating!
SavMor Pharamcy
Remax
Bloom Above and Beyond and Beyond the Bloom
The Blend House
Event by Tuscola Public Library and City of Tuscola
Related Events