Winery BINGO! @ Tuscan Hills Winery – Effingham, IL
October 13 @ 6:00 pm - 8:00 pm CDT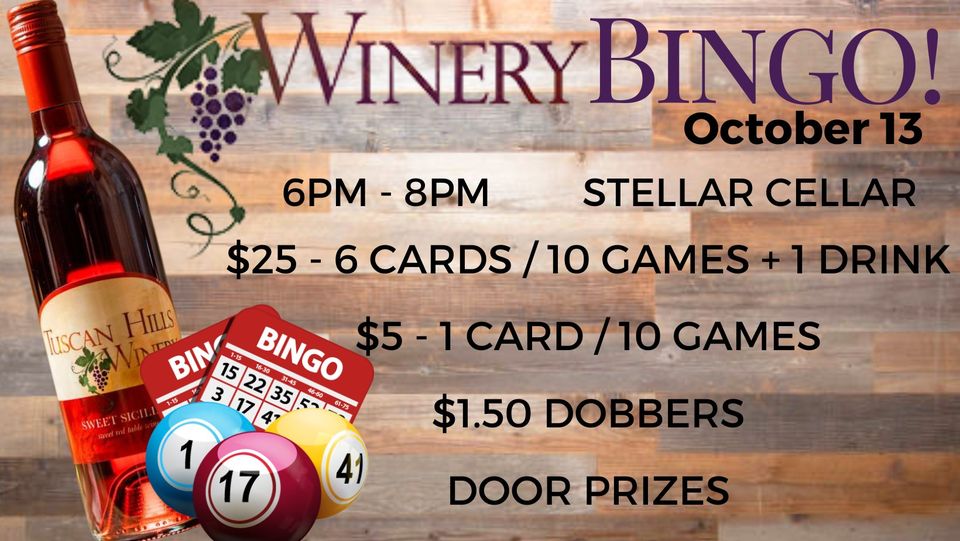 Winery BINGO! @ Tuscan Hills Winery – Effingham, IL
Friday, October 13th, 2023
6 pm – 8 pm –
LET'S PLAY BINGO! By selling 'tickets' ahead of time, we make sure we are fully prepared for the night of fun! There are NO physical tickets. Your name will be on a list and we will happily check you in at the door.
What you get: A SIX-pack of bingo cards for TEN games + ONE drink = $25 Once you check in and get your six-pack of bingo cards, you may then purchase additional single card packs for $5 each. We'll also have bingo dobbers available for purchase OR we can loan out bingo markers for the night!
Just like last time, we'll have door prize drawings every three games. The winning ticket gets a chance to spin the 'WHEEL of FORTUNE' for a gift card of various values!
Must be 21 to play.
DOORS OPEN AT 5PM
Event by Tuscan Hills Winery
Related Events