Women of the Moose Quarter Auction @ Taylorville Moose Lodge – Taylorville, IL
December 11, 2022 @ 1:00 pm - 4:00 pm CST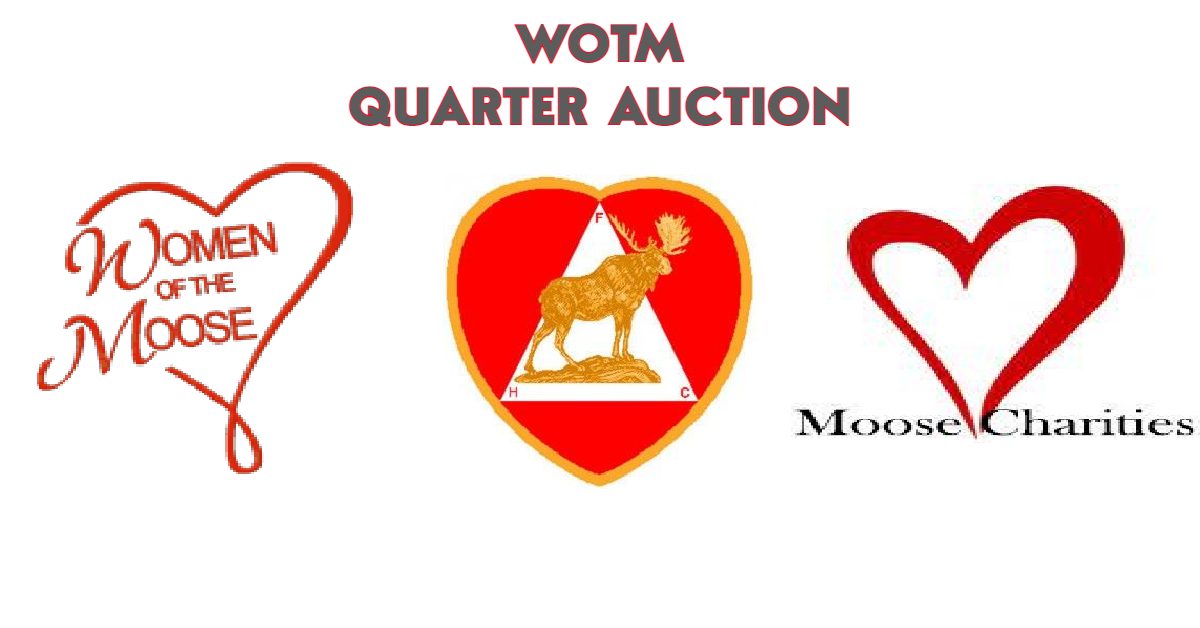 Women of the Moose Quarter Auction @ Taylorville Moose Lodge – Taylorville, IL
Sunday, December 11, 2022 at 1 PM – 4 PM –
The Women of the Moose (WOTM) provides many opportunities for leadership, teamwork, volunteerism, and community involvement. We have a Board of Officers and committees who plan fundraisers and fun events.
Women of the Moose Chapters support the WOTM Scholarship and Maintenance Fund and the Endowment Fund each month along with special projects for Mooseheart and Moosehaven and our community.
Mooseheart special projects include:
Feed a Home in December
Girls Athletic Program
Boys Athletic Program
Christmas in October
Music Department
Special Activities
Physical and Occupational Therapy
Mooseheart Photography
New Child-Right Start
Moosehaven special projects include:
Daily Needs; Vision, Hearing and Dental Needs; Christmas Gifts and Special Events, Pharmacy Assistance and Beauty Shop.
The Women of the Moose Chapter is an option for female Lodge members to join if they wish to advance and earn the three degrees of the Women of the Moose. Also, if you desire to be a Lodge Officer, you need to be a member of the Chapter.
The Academy of Friendship Degree is the first degree of the Women of the Moose
Any member may qualify for this degree by serving as an elected or appointed officer or Chapter Committee Chairman.
She must sponsor and enroll one or more member (three or more members if installed after January 31st) and hold a fundraising project.
Any member not installed into a position may earn this degree by sponsoring and enrolling five or more members.
The Chapter shall qualify for the Award of Achievement.
Golden Gavel Honor (formerly Green Cap)
Eligibility for the Golden Gavel honor shall be limited to a member who served a full term as Senior Regent and fulfilled the duties as stated in the WOTM General Laws.
The Chapter shall qualify for the Award of Achievement.
Event by Angela Hurley-Sager, Kathi Frieden 
Related Events