Youth Adaptive Try-Athlon @ Richard E. Workman Sports & Wellness Complex – Effingham, IL
September 16 @ 8:00 am - 1:00 pm CDT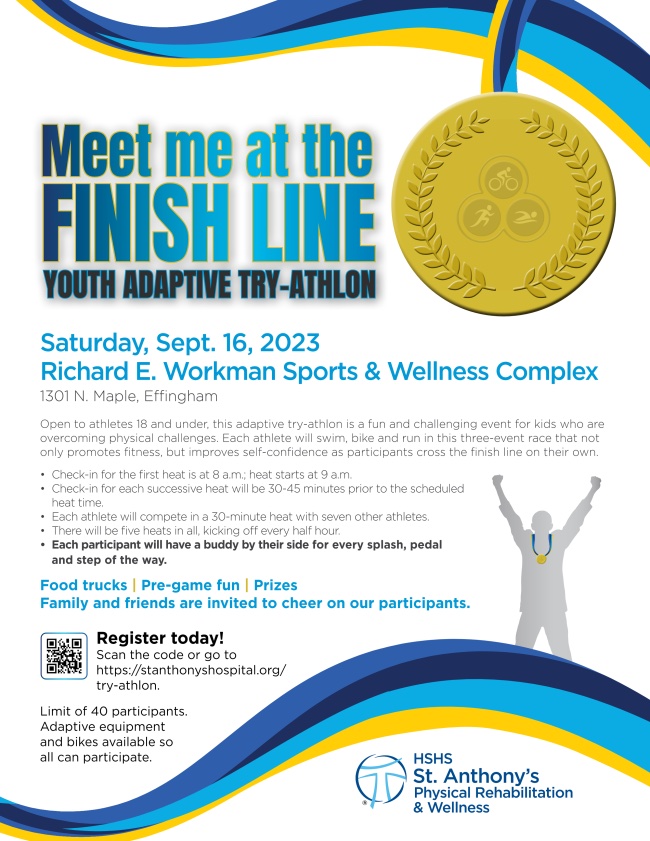 Youth Adaptive Try-Athlon @ Richard E. Workman Sports & Wellness Complex – Effingham, IL
Saturday, September 16th, 2023
8 am – 1 pm –
oin us for the Meet Me At The Finish Line Youth Adaptive Try-athlon on Saturday 9/16/23 at 1301 North Maple Street, Effingham, IL 62401. This event is perfect for athletes of all abilities! Whether you're a seasoned triathlete or new to the sport, this try-athlon is designed to be inclusive and fun for everyone. The event will start at 9:00 AM Central Daylight Time, so make sure to arrive early to get checked in and warmed up. Race heats will begin every 30 minutes so please arrive 45-60 minutes prior to your scheduled heat. The course will include a swim, bike, and run, with adaptive equipment available for those who need it or you are encouraged to bring your own equipment. We can't wait to see you at the finish line!
Meet Me At The Finish Line is an event open to all of our young athletes around the community that often struggle with mobility or are not afforded the opportunities that others may have. This try-athlon is designed to allow kids the opportunity to push themselves to the limit and inspire self-confidence in mobility while creating memories that will hopefully last a lifetime.
This event is being sponsored by HSHS St. Anthony's Memorial Hospital, AMBUCS, and the Richard E. Workman Sports Complex.
Adaptive bikes will be supplied by the AMBUCS chapter in Sullivan, IL.
Related Events